9stacks Takes Online Poker A Notch Higher with New Offering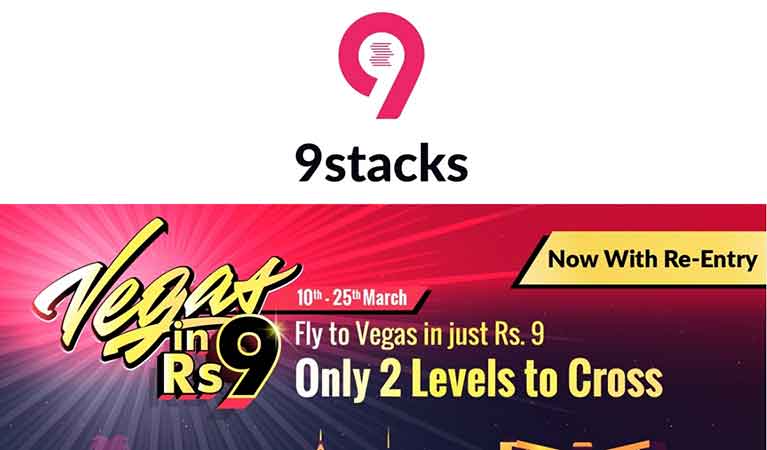 9stacks, one of the fastest growing and leading online poker platforms in India has been known to host some of the most innovative online poker promotions in the industry. Last month, the renowned online poker operator gave its customers a taste of its amazing and phenomenal promotions with the Vegas in Rs.2 and now the platform is back with yet another outstanding and more exciting version. Known as Vegas in Rs.9, the contest will see the participants go toe to toe with each other in a bid to win two tournaments which will earn them a trip to Las Vegas.
For this particular promotion, there are only two levels for players to cross and therefore all they will need to do is play daily tournaments with Rs.9 buy-in for a chance at winning the entry tickets to the "Take Off 2 Vegas". Quite exciting, especially if Sin City is a dream destination for you.
The Details of the Promotion
The Level 1 line up will comprise of a total of 14 power packed tournaments scheduled for every single day beginning March 10 to March 25. This means that the players will have a decent number of opportunities to win a ticket to the Take Off 2 Vegas tournament that will be going down on March 31 – the winner of the tournament will be awarded a trip worth Rs. 2 Lakhs to the Sin City, Las Vegas.
Interestingly, the players will be allowed to collect multiple tickets to Level 2. They can then use those tickets to re-enter the Take off 2 Vegas tournament in case they get knocked out. In addition to that, the online poker operator has also been running multiple tournaments with buy-ins of just Rs. 5. – these will come to an end on March 10 with the winner being awarded a ticket straight to the Take Off 2 Vegas which will be the finale of the season.
The Vegas in Rs. 2 promotion that went down in February was perhaps the best proof of how fast the game is growing in the country. The tournament featured thousands of players from a number of cities go head-to-head at the poker tables for a shot at the final level. Ashish Kumar and Sajal Gupta, the winners, are set to get into some poker action and interact with the best of the best in Las Vegas very soon.
Having been around for just about a year, it is very impressive to see all of the things that 9stack has achieved since it was launched. Its latest promotions are quite popular among poker players in India and so far, they have played a huge role in advocating for poker to be considered as a game of skill rather than a gambling game. At this rate, it might actually happen.