Top Online Poker Reviews by Our Experts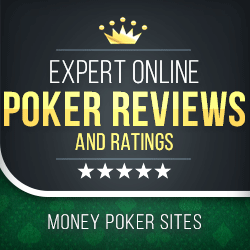 Reviews have often turned to be the lodestars of the online poker room. As gamers from across the world flock to the virtual Meccas to explore their favorite card game, it's understandable that an increasing number of operators will also seek to open their doors for the newcomers. And yet, not all of these companies that come under a banner of reliability and integrity are worth one's while.
Naturally, sifting through all the bad apples on one's own is taxing to say the least. But it also requires a fair bit of expertise and a general idea what to look for. Having spent years in due diligence, we know how to unearth the skeletons in any operator's closet. And if they manage to pass our meticulous testing, then the poker rooms have something to be happy about. In the following lines, we focus on explaining how we conduct our online poker reviews.
Our Review Process – Years on the Job
Approaching the subject of reviews, we have a two-pronged strategy. First, we put ourselves in your shoes – the gamers. What is that matters to you? You are certainly keen on knowing whether your money, personal information and earning prospects are all safe and there. Understandably, you want quick and direct answers. And we deliver them.
We use multiple sections to address each of these separate problems, providing you with terse explanations and highlighting the pros and cons. Investigating banking options, on a website level requires several steps. A registration of an account, assuming we haven't got one, and on occasion – spending some time playing a game or two.
For the most part, we spend the bulk of our time reading through the terms & conditions and comparing and checking whether the operator upholds all the stated facts. Still, a fair caveat emptor goes to all of you who expect the terms and conditions to stay carved in stone. They change, albeit any major changes would be reflected quickly in the news feed of the poker room, for the most part.
Probing for security breaches is never easy, too. We focus on establishing whether SSL is fully-working on the website, we take the website's different software packages and test it on all available iOS-supported machines. In a word we do an extensive research on all counts.
Due Diligence – A Look Under the Hood
Professionals ourselves, we have spent a fair bit of time working for other industries. Conducting elaborate and detailed reports on companies is not something that's new to us nor as challenging as that. Our online poker reviews are held to the same standards.
We take a look into the past of companies. Any rebranding doesn't go unnoticed and we dig even deeper – have the management remained the same? Is such information even publicly available? It may seem like the boring stuff, but it's actually the meticulous added-value part of our reviews.
If a manager who had been playing fast-and-loose with users' funds in the past, wouldn't you want to know if they are still running the show? We know, though, that bias often builds against operators, so we try to outline the cases of clear miscalculation on the part of customers, too, striving to deliver a well-balanced review that will help you make an informed decision.
Why Play at the Poker Rooms We Recommend?
There are inherent benefits to playing at the listed websites here. We can draw from our expertise and guarantee that you are never going to run into an unpleasant situation. There's of course a small wrinkle to address. While the majority of operators we vouch for, you should always read the terms & conditions.
It often happens that a customer ends up ruffled, because they have overlooked a certain condition. Then again, most operators want to avoid the unpalatable situation and they simply make sure to simplify their entry conditions.
This is true for poker rooms too. Take for example the bonuses – you can cash out all your winnings in the very moment you earn them. All of this apart, when choosing a recommended website, the chances are the said operator will also be fully-licensed. And a license means that on the off chance there is a dispute, you can even expect a mediator to step in.
Even if a license is missing, the customer care agents will seek to assist you. Not only that, but you can rely on short response time, too with the agents available around the clock.
Another important aspect of staying with the websites recommended by multiple reviewing services, ourselves included, is the ease of use and simplicity with which you can handle your money. Most banking facilities at the recommended websites will absolutely outshine any minnows or seedy operators. How quickly money can be forwarded to your account will be a determining factor with which gaming den to stick and that's why we cover this in our online poker reviews.
Reputation Is Key
Having gleaned all the available pieces of information, you will notice that the reputation of the gaming dens we recommend will definitely tend to be better. This is understandable, and it's a boon to your own gaming. It gives you leverage when settling a conflict as such places would definitely want to go out of their way to accommodate you.
Then again, do bear in mind that the operators are trying to help you and any attempt to gain leverage by positing false facts may results from getting booted from the operator. Of course, there are cases where poker rooms do that to save themselves a headache, but with our recommended websites, this is never the case.
Claiming the Best Bonus
Poker bonuses are slightly different, and when we take a flick through them, we make sure that only the most noteworthy options are featured. All poker rooms have their distinct bonuses, albeit some plaster them together as welcome packages and introduce uncouth wagering requirements.
The ones we have in mind though, come with flexible offers, which basically allow you to cash out as soon as you earn your money. The norm has become for such websites to introduce tiers and VIP structures that allow players to incrementally add to their status on the portal.
Not only that, but a number of satellite events is usually available to all players. Satellite tournaments run every week so that you can get a chance at some of the most significant tournaments.
While special promotions are indeed available, they most certainly come in some incentive or tournament-pass and reiterate the mantra that poker is a game of skill. For the majority of players, the availability of merit-based tournament passes is a godsend. There are bursts of Sit & Go matches that allow you to quickly become part of the action.
A promotional tournament schedule is often considered a great way to establish yourself, and most of those are promotional events. The total number of awards you can pluck is also quite significant by all estimates. Special awards will often rear their head and you can either seize them or just explore the details and consider whether it's worth your while.
Oftentimes, you can benefit from freerolls, which are tournament passes. Granted, they are not necessarily big sums, but you can still land yourself a cushy spot in any of the major events the card room of your choice holds, as long as you manage to outlast the competition.
Do Bonuses Matter?
When we look into the dealings of an operator, we make sure to cover all aspects that company touts and says to be proud of. Bonuses are often many and rich, what percentage of these are actually worth your while? We would argue that beyond the satellite events, Sit & Go tournaments and freerolls, there is little to truly excite you.
An important element of any welcome package is to have the casino allow you to cash out your winnings as you see fit. Any attempt to restrict you may reflect poorly on the operator you are signing up with.
In the grand scheme of things, bonuses do matter, as they will allow you sufficient backdoor into the company's top events. However, the true trappings of an excellent operator are slightly different. They lie in merit. The more merit-based your poker company, the better. In the end, we make sure that we find these with our online poker reviews.
A Closing Thought on the Reviewing Process
Demanding and challenging as they are, we love carrying out online poker reviews for the sake of adding to your list of reliable rooms on the grid. It often takes hours to study a company in full and we do so with unflagging zest. The final thought on any operator out there consists of whether they pass our benchmark tests and if they do, they earn themselves a spot amongst the other top poker rooms we have had the pleasure to lay hands on.