Top Neteller Poker Sites of 2023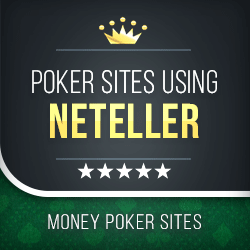 Neteller is an e-wallet, just like PayPal or Skrill. It is an online e-money transfer service that facilitates transactions on the web. You can use it in a wide variety of e-stores. The online gambling industry is slowly incorporating this payment method into their lines as well.
Therefore, the number of poker sites that accept Neteller is likely to increase in the future as it is a rather convenient payment option. It is a very neat solution for those looking to make quick deposits and start their poker journey.
Important: US and Canada residents can no longer deposit using Neteller, but other payment options including Credit Cards – Visa and Mastercard, Sofort, Wire Transfers and local banking options are still accepted.
Neteller processes 80% of the world's online gambling payments, and it does so quickly and securely while offering unique promotion and bonuses for players.
Although the prolific payment option has become extremely popular worldwide across many industries, the online casino industry has yet to embrace this option. At the moment amongst trustworthy sites we could recommend, only Intertops Poker accepts Neteller, so let's take a look at it as the sole representative of Neteller poker rooms. Read on!
These are my picks for the best Neteller poker sites as of September 2023:
Let's check out how to deposit and withdraw to your Intertops account.
Depositing with Neteller
If you're reading this page, chances are that you already have a Neteller account. If you don't, you'll need to register for free first and the entire process doesn't take long.
Once you have your account set up, navigate to the Cashier section of Intertops Poker and select 'Neteller' as your preferred payment method. You can do that by completing the payment request form where you'll be asked to provide your Neteller account ID and your secure ID, both of which you will have after registering an account.
As soon as you complete the form and confirm your deposit, the transaction will be performed. You should be able to see your money appearing in your account balance a couple of seconds after you confirm the transaction.
Although there are minimal fees for depositing with this option, they are all covered by Intertops Poker. Therefore, you won't have to pay anything for making deposits with Neteller.
When it comes to how much you can deposit per transaction, there is an upper limit currently set to $5,000.
Withdrawing Using Neteller
The withdrawal process on Intertops is also very simple. Just navigate to the Cashier page and choose Neteller as your preferred withdrawal method. Enter the amount you want to withdraw and confirm the transaction.
However, you need to take several things into account when it comes to withdrawing using this option:
First of all, there are both minimum and maximum limits regarding how much you can withdraw during a single transaction. The minimum is $25, while the maximum is set to $2,500.
Moreover, Intertops will cover expenses for up to two withdrawals in 28 days. Therefore, you will not have to pay anything if you make only two withdrawals. However, if you decide to make more than two transactions in 28 days, you will have to pay a fee of $15 for every withdrawal.
Finally, there is a pending time of 48 hours for every withdrawal on Intertops Poker. Almost every online casino or poker room needs to check withdrawals in order to make sure everything is in order, and 48 hours is the average waiting time on the majority of sites, although some need more time than that.
Pros and Cons of Depositing Using Neteller
Pros
Fast and Convenient — E-wallets, in general, are considered some of the fastest payment methods on the web right now.
Safety and Security — Players are signing up with a reputable company that exercise extreme safety measures, meaning your funds are protected and your personal data safe from malicious cyberattacks.
Anonymity — Although players can enjoy full anonymity, some sites may require you to submit documents to prove your identity, so this could be an advantage if such a requirement is not necessary.
Although there are many advantages for those who want to play online poker using Neteller, this method also comes with a couple of downsides. Let's check them out!
Cons
Country Restrictions — Neteller is not available in some countries (including US and Canada for Intertops specifically). Make sure to check out whether your country is on the list.
Withdrawals Not Always Available — Many online gambling platforms offer Neteller deposits but make you choose a different withdrawal method.
Not Available All the Time — E-Wallets are dependent on your phone's battery, so you won't be able to use them if your phone shuts down, which is quite inconvenient for those who like to pay on the go.
First-Time Payment — If you don't have an account yet, you will have to transfer the money from your bank account to your e-wallet once you open the account, which may result in additional waiting time.
An Interesting Slice of History

Every major iGaming outlet that did their due diligence understood the importance of offering Neteller deposit options to its players and allowing them to withdraw straight to their main account. Anyone didn't offer this were losing out on a huge portion of the market.
This sudden increase in poker sites that accept Neteller deposit options helped them greatly because not every single US citizen had an account with them, but a lot more was being opened regularly thanks to online gamblers.
Over time, the company has diversified and created incentives to keep their customers happy and continue to use the money transfer platform to this very day. This banking method is also supported by flash player-based sites which meant that another segment, mobile poker players, was also opening new poker accounts.
The Advantages of Using Neteller?
Using Neteller as a deposit and withdrawal option is a fantastic idea because of all the advantages and benefits mentioned above. In short, it mainly comes down to the following three things. Security, Speed, and Success. Yes, success, because if your payments aren't even accepted in the first place, then there's no way for you to begin your success.
This is where Neteller is such a strong performer because it offers nearly 100% acceptance rate at all poker sites.
Convenience – Back in the day, the only deposit method was credit cards and this didn't sit well with some players because they didn't feel comfortable about giving out credit card information but were more than happy with using a third party to make deposits and collect winnings. This was especially true for US players as many poker sites started to reject credit card payments due to the Unlawful Internet Gambling Enforcement Act of 2006 which prohibited gambling businesses from knowingly accepting credit payments for online gambling. This was a golden opportunity for the banking method, and sure enough, Neteller poker's popularity shot up like a rocket. While Intertops no longer accepts Neteller deposits from US players, the dominance of its historical footprint remains in other countries.
Safety and security – Like with all payments made online, the primary concerns for all users are the safety and security of their money and private personal details. For this reason alone, Neteller deposit options for online poker were used, right and center because players and operators alike had complete confidence in the strong security features.
A range of different options – When using Neteller for your poker payments, you can choose between using their online account to transfer funds to your own account, or you use a physical card (which can be ordered for less than $10) to withdraw the money directly from ATMs. This feature is not offered by many eWallet services and sets Neteller apart from the competition.
The speed of processing – Perhaps one of the biggest reasons why many online poker players are opening Neteller accounts is because of how quick the money is transferred to and from your online wallet. This is absolutely ideal as no one wants to hang around for days while waiting for the money to be deposited into your poker account, or for winnings to be cashed out into your eWallet account.
Frequently Asked Questions
✔️ What are the benefits of using Neteller for online poker?
There are many benefits for using Neteller to make deposits and withdrawals at online poker sites. The main reason why Neteller is so popular is because of the instantaneous deposit times. There's no need to wait around when you use Neteller as your funds will be transferred to your online poker account right away, so you can start playing as soon as you hit the submit button for your deposit.
✔️ Is there a fee for using Neteller as a deposit method?
One of the many advantages of using Neteller to fund your online poker account is that there are no fees for making deposits with Neteller.
✔️ Can US players use Neteller at US poker sites?
Unfortunately, Neteller is not really an option for US players due to the 2006 UIGEA. However, please check out all the other payment methods on this site, especially Bitcoin, which is quickly becoming one of the most popular payments for US players.
✔️ Is Neteller the best option for making online deposits on poker platforms?
All e-wallets, including Neteller, are widely regarded as the most convenient deposit method for poker sites.
✔️ Can you both deposit and withdraw using Neteller?
Although both options are possible, many gambling platforms offer only Neteller deposits. Intertops Casino offers both deposits and withdrawals.
✔️ Is Neteller available in my country?
Only US, Canada, France and Spain are restricted from specifically making Neteller deposits, but other banking options are available.
✔️ Are there any fees for depositing and withdrawing using Neteller?
Usually there is a 1-2% fee on Neteller but Intertops covers this fee provided you stay within the $5000 limit per transaction. Additional conditions may apply.