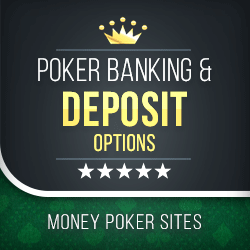 When it comes to playing online poker, there are two very important decisions that you need to make very carefully. First, is choosing a credible and trustworthy online poker site to play at, and second, is to find a reliable payment method that suits you.
With so many payment methods available, choosing one can be a daunting task. To make your life easier, we've selected 5 of the most popular and secure payment methods available. Make sure to check out each guide for a more thorough insight on each one before making your decision on which to use.
What Is a Poker Deposit Method?
There are many options available when it comes to making your first poker payment deposit and this article will take a closer look at what those options are, including which cashout methods are the most popular.
When online poker was first introduced, making poker payments, whether it be into your online account, or collecting poker payouts, was poorly integrated and a rather tedious process. Luckily, with the advancement of technology and poker site's better understanding of their customer's needs, we are seeing a wide range of deposit and poker payment options being rolled out and adopted by many of the top online poker websites.
Players are now happy with the cashout methods available because of the ease of use of these platforms in addition to the security and protection that is built in to keep you safe and protect your personal details.
So, let's take a look at how to make poker deposits, which payment option is best, and which cashout methods offer the fastest online poker payouts.
Making Your First Online Deposit
After you've found a highly reputable online poker room to play at, the first thing you'll need to do before you can enjoy any poker action is to make your first deposit.
To do this, simply register for your online account, then head on over to the cashier section, select "make a deposit", and then you'll find a list of available poker payment methods for you to choose from.
Once you've selected your poker payment method of choice, just enter the amount you wish to deposit and then you'll just have to wait for the money to be transferred into your account and then you can start playing right away. The same process is used at online poker room to collect payouts.
Best Deposit Methods for Online Poker
When it comes to deposit methods, the best ones also allow you to receive online poker payouts, making your life far easier as you don't need to mess around with two different methods for your poker payment needs.
MasterCard

Any players from the United States will be aware of how popular MasterCard is as a deposit and withdrawal method. MasterCard is accepted around the world and sets the standard in the credit card department for security and ease of use
Read the full MasterCard Guide
PayPal

PayPal is quickly becoming a global favorite when it comes to making and receiving payments over the internet and online poker players have quickly embraced the usefulness of this platform. As a payment method for making deposits at online poker sites and withdrawing payouts, it provides you with incredible security features and fast processing speed.
Read the full PayPal Guide
Skrill

Skrill is becoming a great choice for players who are looking for a PayPal equivalent to deposit and withdraw funds at online poker sites. Much like PayPal, it offers unparalleled protection for your funds and gets the money in and out of your account almost instantly.
Read the full Skrill Guide
Neteller

One of the biggest names in eWallet services, Neteller is used and loved by many online poker players, and continues to gain popularity thanks to its amazing processing speed and superior customer services.
Read the full Neteller Guide
Bitcoin

A digital currency that gets bigger and bigger with each passing year. It's most certainly a payment option of the future and is used by many online poker players for its incomparable speed for collecting online poker payouts.
Read the full Bitcoin Guide
The Best Cashout Method
There isn't really a one-size-fits-all when it comes to cashout methods. However, generally speaking, the most important criteria when choosing a cashout method to withdraw online poker payouts is speed – how fast can the winnings get transferred into your own personal bank account. With that in mind, credit cards, PayPal, Neteller, Skrill, and Bitcoins typically offer the fastest online poker payouts speed.
These cashout methods are not only popular for their speed, but they are also highly trusted and offers the most secure protection to guarantee the safety of all your online poker payments.