Bonuses
All new customers are given an opportunity to claim a 200% match bonus on the first deposit and can receive up to $1,000 of free bonus cash.
Customers MUST enter the 1000ITP bonus code to receive their free funds on their first deposit. The bonus will be applied to all deposits between $25 to $500 which are made along with the code.
Bonus money are released at a rate of $5 at a time for every 83.335 of Everygame' Frequent Player Points (FPPs) accumulated.

FPPs are awarded at a rate of 1 FFP point for every $1 staked in a cash game and 7 points for every $1 of a tournament buy-in. You can check your account at any time to see the current status of your bonus and how many FPPs you have earned.
There are other bonus options available including a no deposit bonus and other regular reload bonuses and promotions. Check the Everygame Poker site regularly for information on these. It is possible to use more than one bonus at the same time.
FPPs are not just a way to cash out your welcome bonus. They exist as an independent ecosystem on Everygame Poker and can be converted for cash.
First Deposit Bonus at a Glance: What You Need to Know
Amount: 200% up to $1,000
Promo code: 1000ITP
Minimum deposit: $25
Deadline: 3 months
You can always look up the current status of your bonus via the "Cashier tab" where you can check all bonus details, status and progress.
Everygame Poker offers some of the most accessible and fair bonus terms presently available and, if you are still struggling to understand the bonus, live help is always one click away from assisting you on any issue.
Four Easy Steps to Claim the Bonus
To claim the bonus, you just need to tick a couple of quick boxes and before you know it, you will be sitting atop complementary funds up to $1,000.
Go to the Everygame Poker website via our dedicated link (this gives us a small referral kickback and doesn't change your experience – we only give you better or the same promotional deal, otherwise you can simply Google the domain to avoid this)
Set up your account and fill out your information.
Make your first deposit of at least $25 to qualify for the promotional bonus.
Click on the "Bonus Code" button and enter the 1000ITP promo code followed by "Redeem Bonus".
The bonus should be credited immediately to your bank balance. If you need help, you can get in touch with Everygame Poker customer support.
Everygame Poker No Deposit Bonus
Everygame has gone a long way to improve on the bonus existence. Today, you can claim an exclusive non-deposit bonus in the form of the so-called Gold Chips.
There are a few peculiarities about this bonus. For starters, the bonus Gold Chips are awarded based on how much money you have deposited, even though you don't have to specifically deposit for Gold Chips, hence why Everygame Poker refers to this bonus as non-deposit.
Here is how much Gold Chips you can claim as per your original deposit:
$5 for 20 Gold Chips
$25 for 100 Gold Chips
$100 for 400 Gold Chips
To claim your GC's, you need to email support at [email protected] and put a subject line into your email "Gold Chips $x Bonus". You can use the GC's to claim various prizes or even participate in the special Gold Chips Sit and Go tournaments.
The Everygame tournament schedule is always available on the official website under the "Tournaments" tab.
Freeroll Tournaments
Everygame (formally Intertops) allows poker players to take part in the freeroll tournaments designed to help you boost your bankroll and participate in action-packed events all throughout the week and at weekends. Here is the latest schedule for all Everygame Poker freeroll tournaments:
| EST | CET | Name |
| --- | --- | --- |
| 7:00am | 1:00pm | $10 Racetrack |
| 11:30am | 5:30pm | $10 Racetrack (Omaha) |
| 3:00pm | 9:00pm | $15 daily workhorse |
| 7:30pm | 1:30am | $10 Racetrack (Omaha) |
| 1:30am | 7:30am | $15 daily workhorse |
*All information is updated as per Everygame Poker's official tournament page.
You can also participate in the weekend freeroll events that take place on Saturdays and run a small $50 GTD prize pool. Another point of interest for players could be the Monday to Sunday "Just One Dollar" $100 GTD event.
Bonus Codes
You can claim various bonus codes at Everygame to increase your playing funds and allow yourself to dive into your preferred segment with a bit of extra financial heft. We have collected all relevant poker Everygame bonus codes for you, and you can always reference to the following table for up-to-date information:
| Type | Bonus Code | Amount |
| --- | --- | --- |
| Poker | 1000ITP | 200% up to $1,000 |
*Additional bonus codes will be added as soon as they become available.
Deposit Options
Poker room players like to be able to deposit quickly so they can play poker without any hold ups or intensive verification processes.
They also like to withdraw their winnings in a hassle-free way and to have them in their accounts in a timely fashion. Everygame Poker will help players on both of these counts. In some territories, there are fees for withdrawal of funds, but universally a free withdrawal on funds in Bitcoin is offered.
The following payment methods are welcomed by Everygame Poker:
Bank transfer
VISA
MasterCard
Neteller
Skrill
Bitcoin
Paysafecard
ecoPayz
Sofort
SEPA
You may be limited to just a few payment options, based on your current location, but the good news is that they will also serve their intended purpose and allow you quick deposits. As a downside, you may be asked to deposit slightly more than you would normally find at some websites closer to home.

For example, your MasterCard and Visa transfers ought to be at least $20, which is not too steep for a poker room, but some players might want to play on an even smaller budget.
Bitcoin and Cryptocurrency Deposits – Quick, Safe, and Reliable
The surest way to deposit by far is Bitcoin, Litecoin and Bitcoin Cash.
All three stand for a viable and quick depositing method. Better yet, you can use these methods to withdraw just as quickly. Some of the upsides of using Bitcoin for your banking include:
You will be able to deposit/withdraw without complications
There will be no fees applied to your transactions
All transactions will be completed immediately
Of course, understanding Bitcoin will take you a bit, but Everygame Poker has taken care to explain pretty much everything – from how the cryptocurrency is purchased to how to set up your e-wallet.
Most depositing limits will vary from $20 up to $5,000, but the card room will specifically tell you how much you can deposit by clicking on the "Info" box next to each payment method.
Withdrawing from Everygame
Requesting a quick withdrawal is never an issue at Everygame. Payment options may vary based on your state, but you will always have access to cryptocurrencies, which are the quickest and cheapest ways to withdraw.
A simple Bitcoin withdrawal would take no longer than 48 hours, and a transaction is often completed even sooner. Minimum withdrawals will depend solely on the payment method you have chosen.
Once again – all withdrawal details will be readily available in the dedicated information box.
Software
Everygame Poker offers three different poker games: Texas Hold'em, Omaha Hi and Omaha High/Low. All of these games are available on the poker room's website as instant play games in flash versions. These games are available in such versions that are compatible with all web browsers.
The advantage of instant play is as the name suggests, it is possible to play instantly without the time-consuming downloading and installation which is sometimes necessary in order to play poker online. The games are all easy to play and gameplay flows at a perfect speed so it is neither too fast for novice players nor too slow for experts.
There is a downloadable version of the casino software for those who prefer to play that way. Instructions for download and installation are on the website and Everygame will walk you through the process, providing customer support if you require it. The downloadable software is supported by Windows and Mac computers and there is a mobile version too for iOS and Android systems.
All data on the Everygame Poker website is protected by 256-bit SSL encryption technology so you know that your details are safe and that
Software Client Options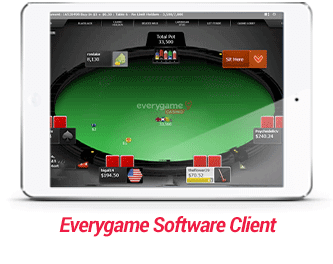 The client itself is very user-friendly and customizable. You will be able to tinker with virtually any aspect of the game – from the general options that include Seating, Custom Buy-in and Auto Re-buy feature to the Graphics, Audio, Themes and more importantly Hand History.
Everygame Poker downloadable client is truly entertaining and more importantly – convenient. If you are a desktop player, we would recommend you downloading and installing it as it would offer a quick and intuitive way to enjoy yourself a decent gaming experience.
Everygame' Poker Network: What Do You Need to Know?
Set up as part of the Horizon Poker Network, Everygame Pokers competes for the title of the busiest venue in the United States, but the real question is – can US players join freely?
The answer is yes, poker aficionados will find no issue with the registering process and will be able to join. Some people have been worried about the legalization of gambling across the US, but unfortunately poker has taken a back seat with the shared pools still insufficient to support a healthy number of people playing.
Everygame Pokers also tries to comply with local legislation in full, though, so if a particular state requests that the card room should stop accepting players from its jurisdiction, there is a good chance the website would comply.
But how do you know if that hasn't already happened?
Simple, upon talking to customer support, Everygame rep. told us that if your jurisdiction doesn't to access poker products outside your state, you simply won't be able to complete the registration process.
This is a sure-fire way to know that once you register, you are actually able to play.
Everygame Poker Game Variety
Another big acknowledgement of Everygame commitment to the poker segment is the variety of gaming options. Everygame makes it very easy for anyone to look up the specific titles they would be interested in thanks to intuitive and helpful filters, which allow you to choose from:
Ring Games
Tournaments
Sit N Go
You can also pick the type of game, i.e. Hold'em or Omaha poker and can further tinker with limit, buy-in, and table seats. Players are allowed to filter based on No Limit, Pot and Fixed with buy-ins ranging between Low, Med and High.
As to the available seats, you can look for table with capacity of 2, 3, 6 or 8 people. All of these filters are there to allow you to have the best possible experience.
Ring Games: Grind Your Way to the Top Echelons of Poker
Anyone looking to gain a firm foothold at Everygame Poker will start with the Ring Games. They are the bread and butter of any poker player who wants to start from a low budget and gradually climb into the big competitions.

You will find generous tables allowing you to play for as little as $0.02/$0.4 pot and no limit games. These tables are also often the busiest, as they draw all fellow players who are looking to make it big at Everygame Poker. It seems 6-player tables are still the busiest drawing the largest draw.

The poker room also supports multi-table format, so you can join up to 3 tables and play at the same time. More advanced players will definitely find Everygame Poker to be up to their speed.
Everygame Poker Tournaments
There are quite a few tournaments going on at Everygame Poker and you can take place in all. The status of each big event is available in the right-hand side column and you can Register or look up an Announced tournament when you see fit.

The buy-ins range between $1 and $100 for the highest events we have seen available. A $100 buy-in could be a little steep, but it attracts its own sort of players.
Sit n Go – Decent Buy-ins and High-roller Opportunities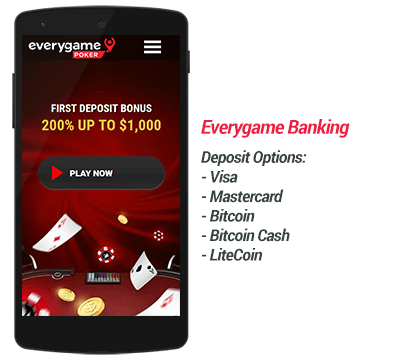 The Sit and Go section is replete with multiple ongoing events allowing you to have an absolute blast playing on your own terms and picking the specific games you are truly interested in.
All versions of the games are available in Turbo/Hyper Turbo mode to expedite the gameplay and guarantee you some of the best experience. The buy-ins can range by quite a bit though.
You will see buy-ins as low as $1.50 with the levels increasing at a decent clip, and then again, you will see games that are asking you for as much as $192 as the buy-in.
If pressed, I must say that BetOnline offers slightly better Sit n Go's whereas Everygame focuses on a rather established but a bit dated format of the games. Then again, Everygame Poker wants you to succeed based on skill alone, rather than giving you frills such as jackpots as an incentive.
Apps: A Look at the Mobile Everygame Platform
To stay competitive, any poker site today would provide players with intuitive mobile options. Everygame Poker is no different. The platform is intuitive enough to allow you to quickly join any of the games available at the card room be that a regular cash game, Sit and Go or a tournament.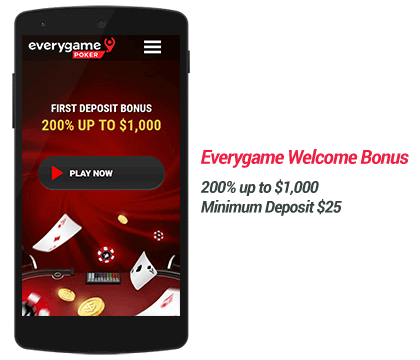 To access mobile gaming at Everygame, all you need to do is click on the 'Play Now' icon which will take you directly to the mobile interface of the card room and allow you to start playing at once. The only slight downside we could find here is the lack of a dedicated mobile app.
Is that a significant downside? That really depends on how you look at the experience. On the one hand, not having to bother with an app is handy, on the other, some players prefer to have a dedicated software to play.
If you still miss the accessibility an app can offer you, we recommend setting up a quick browser shortcut, which will be practically indistinguishable from an app. Nevertheless, you should have no issues running Everygame Poker on both iOS and Android tablets and smartphones for your ultimate comfort.
Download Versus Instant Play
Everygame (formally Intertops) has taken steps towards ensuring the best possible experience while playing in the card room. This begins with the introduction of a dedicated downloadable platform that can be installed directly on your PC.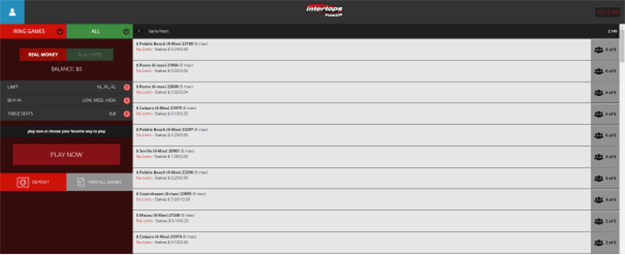 The alternative is the instant play that will load directly in your browser. In both cases, we were pleased with the functionality of the solutions offered. There are certainly some upsides to using one method over another and vice versa.
For example, the instant play option saves you time and space on your PC, although with today's computer capabilities a few extra megabytes shouldn't be an issue. On the flipside, if you download Everygame Poker you guarantee yourself a more immersive experience.
In terms of what is offered, I would say that the platforms are fairly evenly matched and you will have the same level of satisfaction choosing any of the two. Here is what we believe to be the pros and cons of each platform:
| Download | Instant Play |
| --- | --- |
| (+) create a more immersive experience | (+) no installation required |
| (+) requires very little installation space | (+) can be played from mobile |
| (+) easy to navigate | (+) can be accessed regardless of the device |
| (-) you still need to install to play | (-) could sometimes be glitchy when entering your password |
One of the biggest issues that we have had with the instant play platform is when we tried to enter a special symbol for our password from an Android phone, but couldn't switch our keyboard to the special symbol layout, because the keyboard would get minimized.
We did manage from another Android device, though, but do keep in mind that sometimes the make of your phone could get into the way of your log-in.
Customer Support
Everygame Poker value their customers which is why they have made sure to have a customer service department staffed by knowledgeable and friendly staff which is available at any time of the day, seven days a week.
There are several ways to contact Everygame' customer support, such as email at [email protected], toll-free support line at 1-268-484-3100, and the most convenient and responsive option, live chat, that can be accessed at any time and from anywhere within the site.
No matter which method you choose, we can guarantee that you'll receive satisfactory solutions from their dedicated team of support staff that strives to go above and beyond all the time every single time.
Screenshots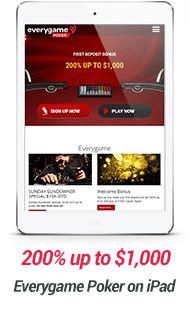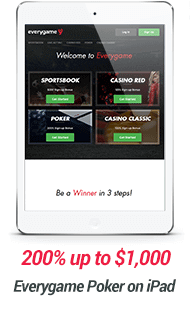 Verdict
As one of the longest standing online poker brands in the industry, Everygame Poker knows exactly what it is that players need and wants, and through experience knows precisely how to deliver on all fronts.
They offer a handsome bonus package to new and existing users and they are always there should you have any problems. There might be only three variations of poker available, but they are presented in such fantastic instant play versions that you will be entertained for hours by them. It is a site which suits new players and experienced players alike, offering both low and high stakes possibilities for all games of poker.
Frequently Asked Questions about Everygame Poker
✔️ Is Everygame Poker legitimate?
Yes. Everygame Poker is one of the best US poker sites that is legitimate and has a license from a respected regulator to confirm it. Presently, Everygame Poker holds license from Curacao eGaming.
✔️ Does Everygame Poker accept US players?
Yes. All US players are welcome to join. If anything changes in future and certain states become unavailable, Everygame Poker will stop the registration process so that a player would never end up in a situation where they have registered, but can't play.
✔️ How do you reload play money chips on Everygame Poker?
To top off your account and add new wallet money, just head over to the Cashier section and choose one of the deposit methods to top off your account again. Intertops recommend using a bank card or cryptocurrency to top off your account.
✔️ Is Everygame Poker legal in US?
Yes. There is no law that currently bans Everygame Poker or stops players from legally accessing the card room and play according to the specific T&C's of the website.
✔️ What network is Everygame Poker on?
Everygame Poker is part of the Horizon Poker Network which is constantly vying for the top three positions in the United States in terms of traffic. Horizon may very well be the largest poker network to date as well.