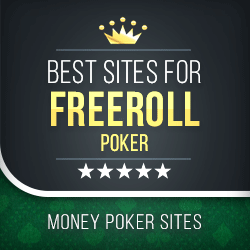 'Freeroll poker' is a term not without some history. Ever since the dawn of high-paced online gaming, operators have sought to introduce a way for players to get a taste of the action. They have come up with a rather successful formula that promises the novices to cut their teeth and prove themselves without risking their own funds.
Joining for free is precisely what a tournament going by the name of freeroll implies. However, the stakes are quite real, and you certainly should give them a go.
What is Freeroll Poker, Really?
Ever wanted to get a free pass and prove your mettle? Freeroll poker is just the thing for you! And no, this is not the learning-of-the-ropes safety-net-type of event. It's real poker with actual money being paid out to winners. And you can enter the competition without spending a penny. The catch? Popularity. Poker operators seek to increase the numbers of players who play online and make it to offline finals. Understandably, freeroll poker tournaments are very much in vogue.
But instead of whipping up excitement for their personal gain, the flagship websites prefer to extend a generous hand to those among you who are skilled enough to establish themselves by virtue of their poker acumen alone. If you come out victorious of the freeroll, you leave with more than the prize money. You have opened the sluice gates of future highly-yielding tournaments.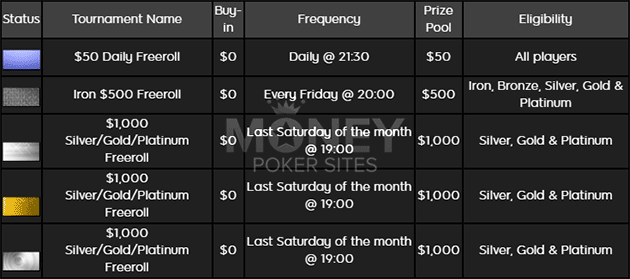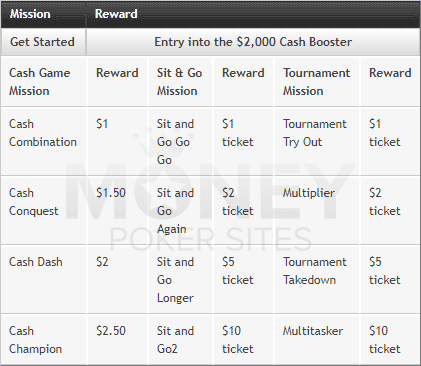 Free Play or Freeroll Poker – What's the Difference?
If you are eager to learn the ropes of the game, you may certainly pounce at every opportunity that comes your way. Opting for free play rooms is not a bad idea by any stretch. However, more often than not, free play rooms don't offer many returns, apart from experience. With the flagship poker operators, you may not have as much opportunity to play for free, but you can enter tournaments without spending a penny, and then winning the prize pool.
Herein lies the slight difference that you need to acknowledge when choosing your options. Normally, we would recommend that you get sufficient experience toying around with the game. Our personal favorites remain the freeroll poker tournaments, which provide us with good chance to notch up a profit.
Making the Cut – How Does It Work?
Freeplay poker targets novices who want to get a foothold in the world of competitive play. Qualifying for an event is not all that gruelling as appearances may suggest. In most cases, it suffices to say that you want in on the action.
Certainly, some minor potholes may occur. For starters, some events may be region-specific, as they are part of the operator's efforts to bolster the popularity of the game there. Even then, you will be quite happy to know that the major names in business run competitive pow-wows around the year.
Are there any real restrictions when it comes to the version of the game? Not in the slightest, albeit you will see predominantly Texas Hold'em and Omaha played at most events.

The Freeroll Poker Minnows vs. the Big Fish
Having said that the rewards you reap from a freeroll poker tournament are very much tangible if you wonder about their nature. True, most tournaments don't quite offer much more than pocket money. And that would be a fairly dispiriting fact were it not for those events that are linked and open up access to more important ones.
Notching up a few quick games to bag $100 out of an impromptu pow-wow is certainly a neat monetary incentive. However, most professional operators want to continue this by inviting you to a chain series of events, which will put you up against better players, and a fair promise of a substantial reward.
Reigning Supreme Over the Crowd
If you have tried your hand at any sort of speculation, including Forex, you know that it's rather easy to drop your guard. Not playing with your own money will certainly dissuade you from trying too much, as an initial reaction.
However, you ought to acknowledge the situation for what it is – an opportunity to rank up in poker leaderboards. An opportunity definitely not to be snubbed on a whim. With this in mind, employing a strategy as you would when playing with your own money will be your best bet.
Of course, a fair bit of the opponents will tend to misplace their chips and lose them quickly. Stay sharp and treat every opponent as you would treat them in high-level plays, which is ultimately where you want to end up playing.
Freeroll Poker, a Downloadable Dilemma
Aspiring professionals tend to dabble in all sorts of gaming venues. Most often, you will start your forays in a browser-based portal. It's free, it's convenient and it's reliable. Apart from avoiding clogging your device with a few extra apps, there is nothing that distinguishes browser play from the downloadable clients.
Conversely, a downloadable poker software has been streamlined for complete immersion. The audio and visuals have been revved up to smack of a genuine gaming experience, which some players may prefer over browser play. Ultimately, it's entirely up to you to decide what to pick. If you are after freeroll poker, then you can rest assured that events will be available both online and through the downloadable software.
Should I Go After Freeroll Poker?
Why would you not? This type of competition provides you with everything a high-tier tournament would, minus the stress. Of course, the opponents you face will never be nearly as well-seasoned as an actual pro who has turned the game into a career, but it's a good starting point.
Plunging into the freeroll poker action is an excellent way to get a scoop of what competitions are all about, build a respectable capital, and establish future opportunities to participate in major events. Make sure to check out some of the top operators we have researched.