Global Poker started operating in February 2017, making it one of the youngest entrants into the global online poker industry. Since it has made a timid entrance, the brand's popularity has been growing. Global Poker has acquired a license from the Malta Gaming Authority (MGA) in a bid to consolidate its online presence and signal to existing and potential customers that the card room is in for the long-haul.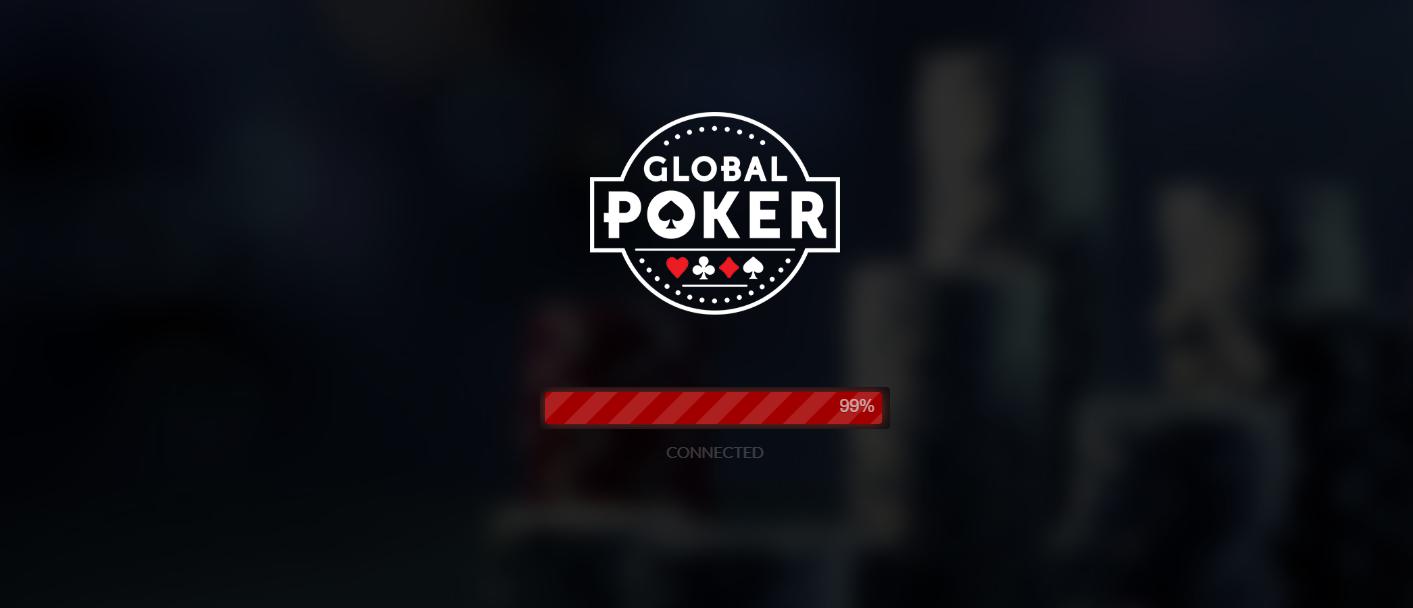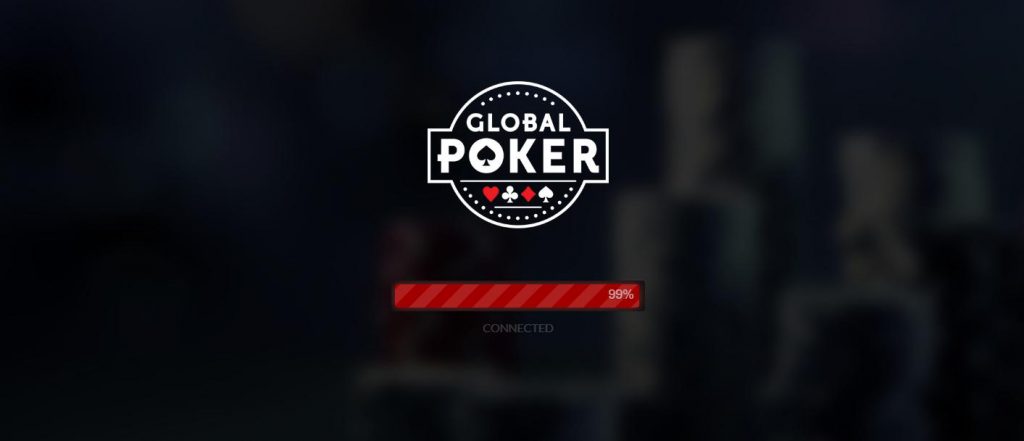 With a thriving online community, varying between 300 and 1,500 people, this poker portal has been running a successful offer, tailored to the needs of North American customers, specifically U.S. and Canadian citizens. The card room's focus on these two markets has come along with a global offer, making it easy for anyone overseas to join and enjoy a reliable playing environment and expedient gameplay.


The poker room doesn't expect customers to download any client in order to access its offer and instead, all tournaments and games are optimized for browser play. There are two individual currencies that allow gamers from around the world to participate in the various events available at Global Poker – Gold Coin and $weep Cash.
Our Global Poker review will focus on examining the deposit options, software, design as well as the types of games available at the card room, along with an honest analysis of its customer support. Sit back and prepare to discover all there is about Global Poker.


Is Global Poker Legal?
Yes – since the site is classified as a Sweepstakes promotions site as opposed to a real money gambling website, US players have absolutely nothing to worry about when it comes to accessing and using global Poker legally. It is completely legal to use. Not only does that site boast of a number of certifications from some of the most reputable regulatory bodies on the planet including the Malta Gaming Authority, but it is also licensed to operate in several jurisdictions worldwide.
Safety and Security – Is Global Poker Safe?
Global Poker boasts the world's first US-facing safe & secure online poker cardroom. Emphasis on security comes not only from practical considerations but also because of the way the card room has chosen to settle financial transactions. The inherent security measures come on top of the mandatory SSL encryption protocol that keeps your information safe and secure at all times.

In order to carry out reliable $weep Cash conversions, Global Poker guarantees solid and reliable gameplay, and proper safeguards are always in place. The online gaming platform is totally committed to providing a fair and enjoyable gaming experience thanks to its iTechLabs certified RNG and its responsible gambling safeguards.
Graphics and Software
The layout of the website allows players to quickly find the product they are looking for. Loading times are almost instant, indicating the high-responsiveness of the platform. Right from the moment you fire up the site you are treated to a polished view consisting of crisp graphics and very smooth animations. The relatively dark background is complemented by bright colors that will definitely light up your mood.


Visually, Global Poker strikes as a highly-accessible website with pleasant and understandable layout, making it a preferred first choice among gamers. Once the customers log in, they are treated to a neat, simplistic and very clean designed dashboard. Everything is laid out in a manner that makes them very accessible and insanely visually appealing. All the gaming-related info you will ever need will probably be somewhere on the screen.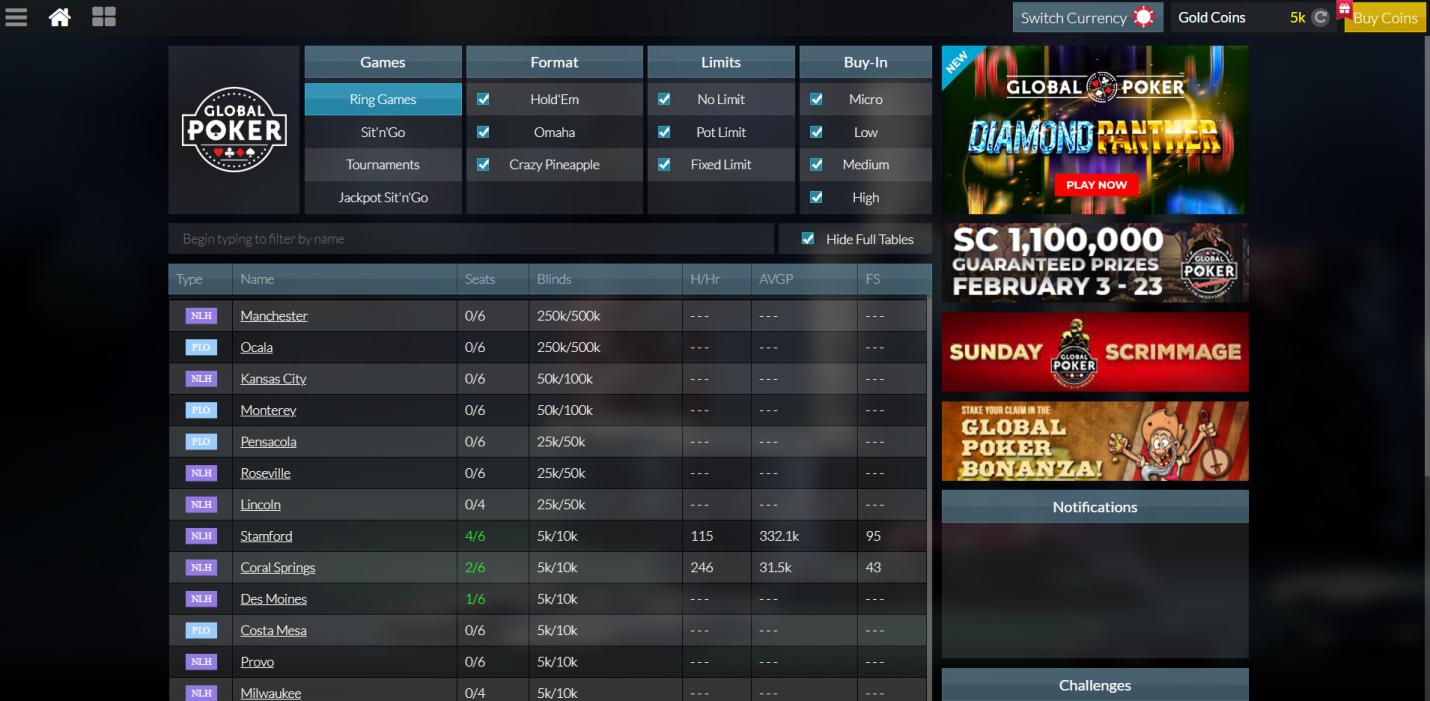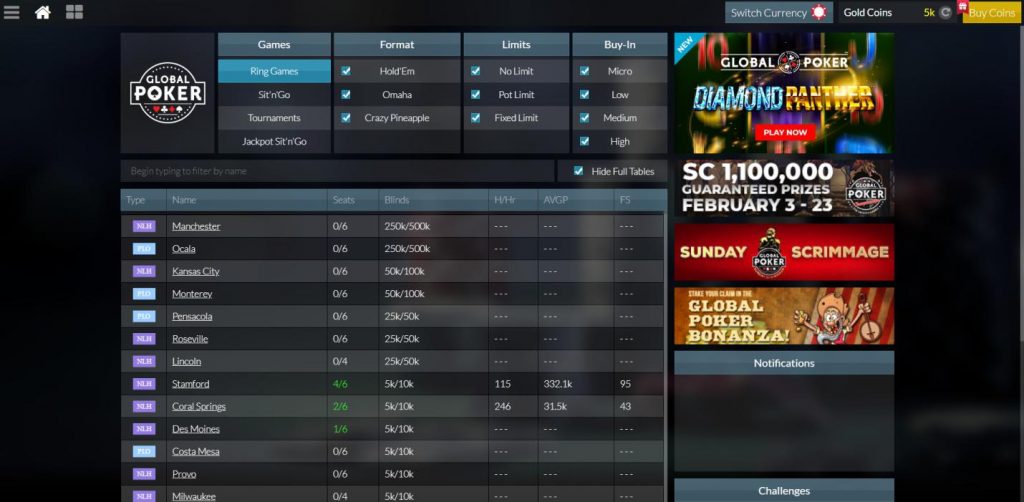 The tables you will be playing on have a number of different themes to choose from. In case you are not happy with the default theme, you can always head to the settings page and pick one that looks much better to your eyes. All the table themes are free to use so you do not have to worry about any extra costs.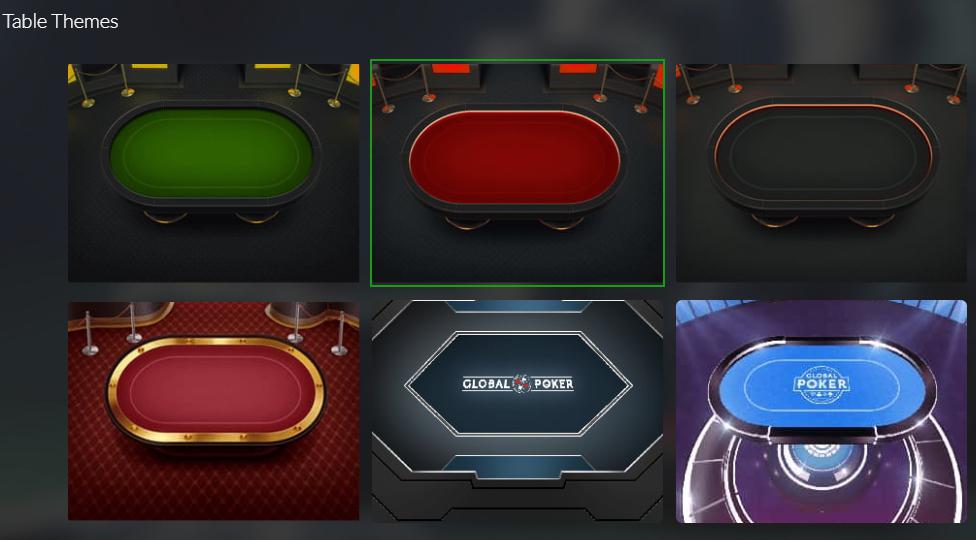 The table themes are not the only thing that is available to players in terms of customization at Global Poker. Customers also have the option of changing their game avatars by choosing from a wide range of well-designed fun-looking avatars available on the size. Some of the avatars will set you back a few Gold Coins but considering how good-looking they are, you will agree that they are definitely worth it.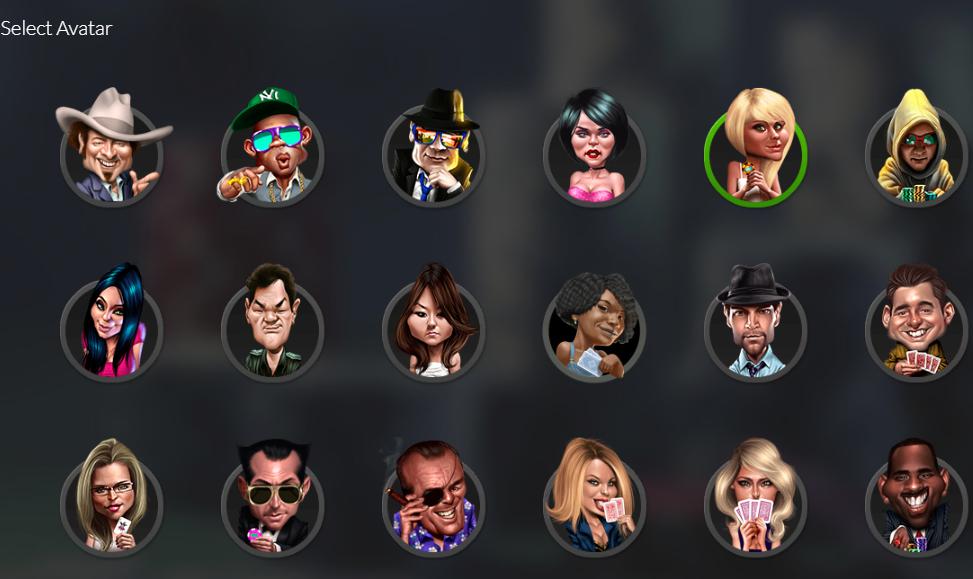 In general, managing all the elements of your gaming accounts, your transactions and even viewing your previous activities is super-easy with the amazing dashboard that Global Poker offers its customers. The company is always working on ways of improving its services and this is one of the areas it has been laying emphasis on.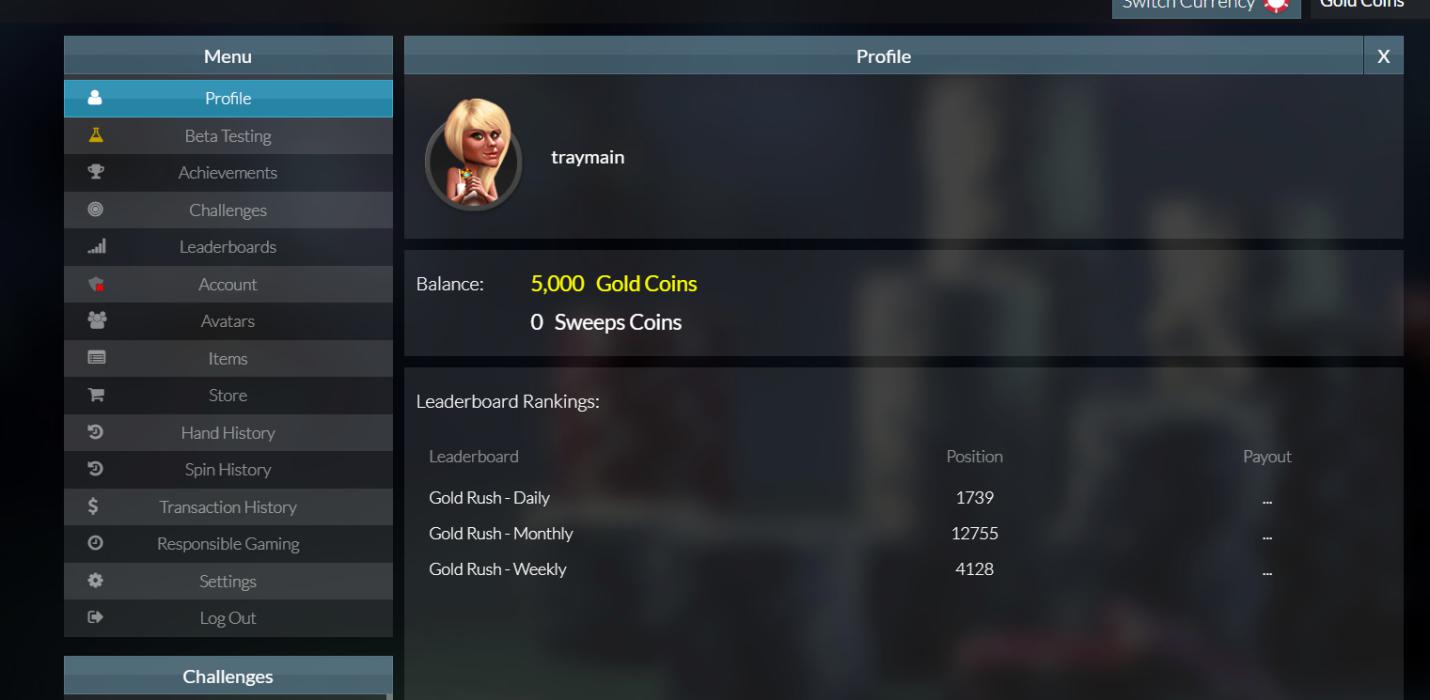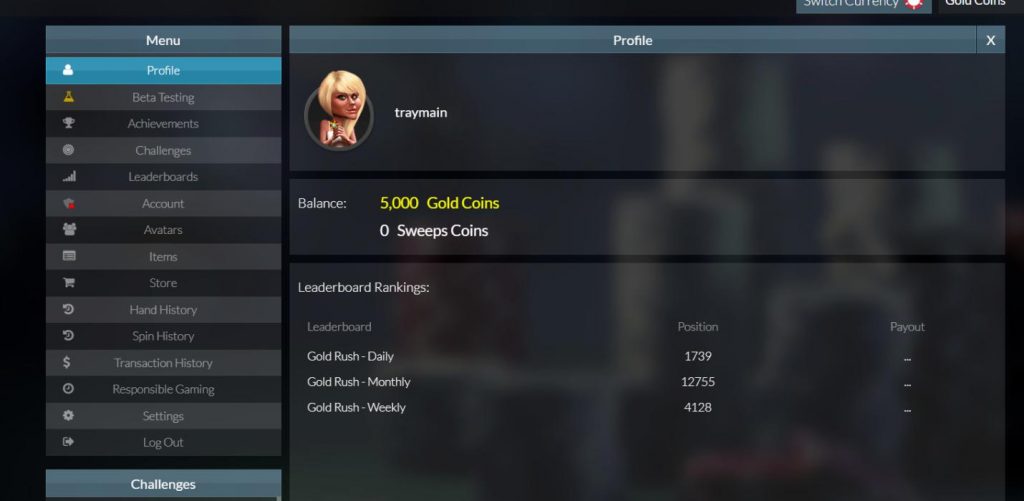 Bonuses, Promotions, and Tournaments
Global Poker offers bonuses and benefits, all of which are designed to make the player experience extremely enjoyable. Thanks to its developed platform and good online population, the card room guarantees that you can continue growing your bankroll 24/7 as long as you are willing to play.
The $20 Gold Coin Welcome Package
Fore new players, Global Poker offers a fee $20 Gold Coin package that will definitely come in handy as they begin their gaming adventures. To receive this welcome package, the players first need to be verified on the platform.


Fortunately, the verification process is quite simple and takes no more than 5 days. In order to get verified, the players are required to send documents to the platform's support email. These documents will include valid primary identification documents such as:
Passport
Driver's license
National/State ID
Other government-issued IDs
For proof of address, the Global Poker customers are required to send copies of any of the following documents:
Utility Bill (electricity, telco, water, etc. not older than 3 months)
Notarized agreement form for lease (nothing hand-written)
Bank statements
Medical insurance
Once you are well set up you can get started on the game of your choice or go with one of the site's very hand recommendations.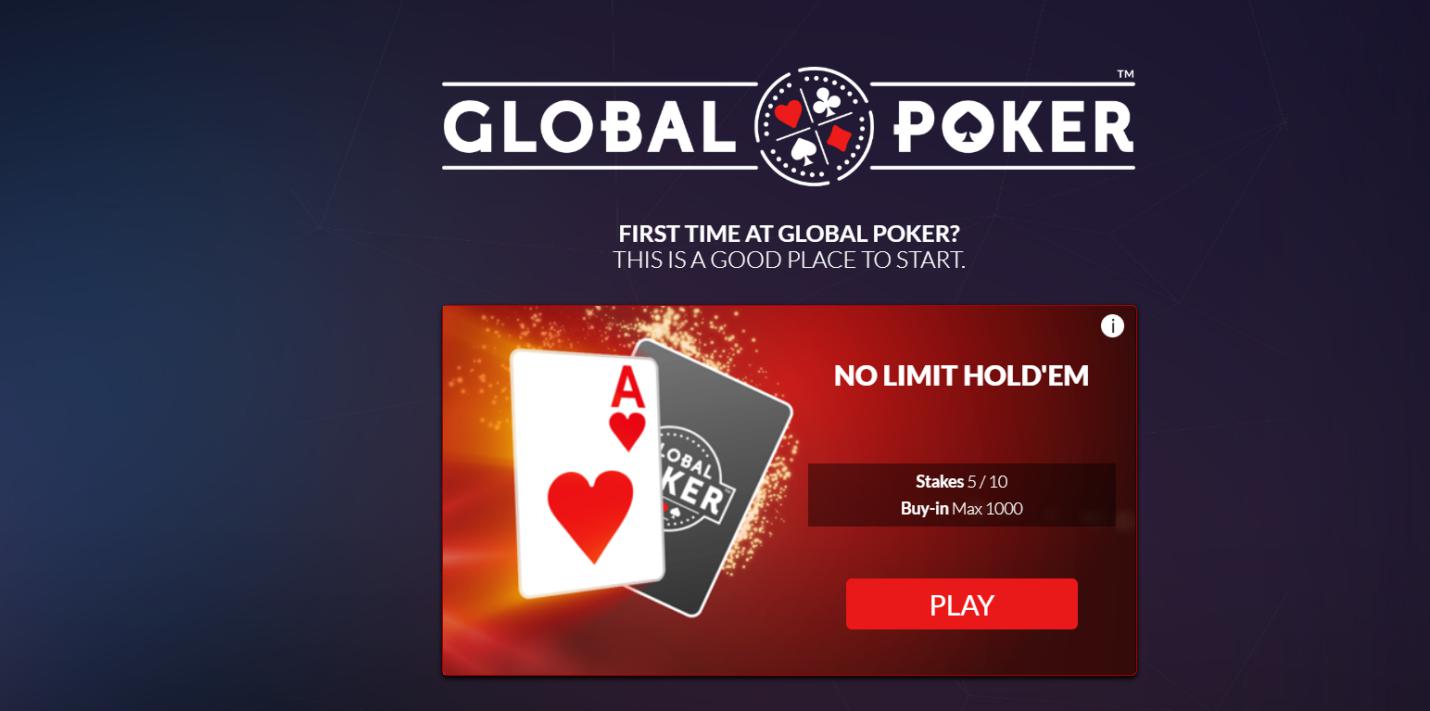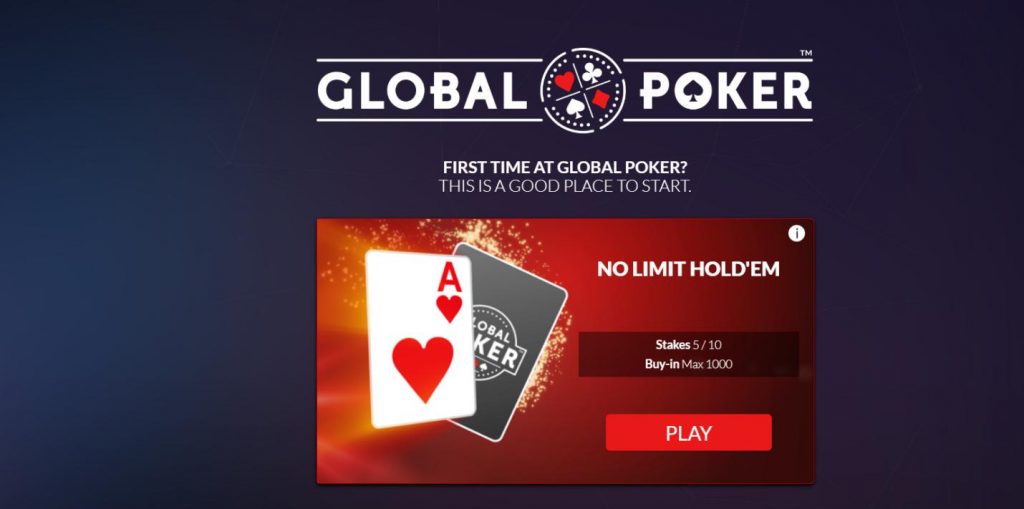 There aren't any million-dollars worth events here, but you can keep playing for respectable sums all throughout the week and join the $weep Cash or Gold Coins competitions on weekend. When it comes to SC$, you can expect as much as $50,000, courtesy of the Sunday Scrimmage.
The Sunday Teaser is another event you will want to participate in, as it offers SC$20,000. When it comes to tournaments, there are one-off events announced throughout the year. In March 2018, the card room successfully hosted the March 2018 Global Poker Madness with over 420 people joining in.
You can participate in a number of different tournaments, including:
Regular
Guaranteed
Satellite
Rebuy
Game Options
The main game variations you'll encounter here are Omaha and Texas Hold'em. As expected, Texas Hold'em offers a slightly better variety of options, specifically when it comes to table limits.


Sit & Go games usually feature 6 or 9 players, although there are some exceptions when the player count reaches 18 or more. Ring games are also capped at 9 participants at any one time. Flicking through the Sit & Go's, you will notice that many of the games are available in Turbo & Hyper-Turbo format, allowing you to conclude the table even sooner.
You can participate in most competitions starting at as little as SC$0.02 and slowly progress to the slightly more impressive sums, such as SC$10 for No-Limit Hold'em Tables, or even SC$20.
The intuitive platform also reminds you about any upcoming events, available in the right-hand-side of the client, with events.
The Mind-Blowing Game Promotions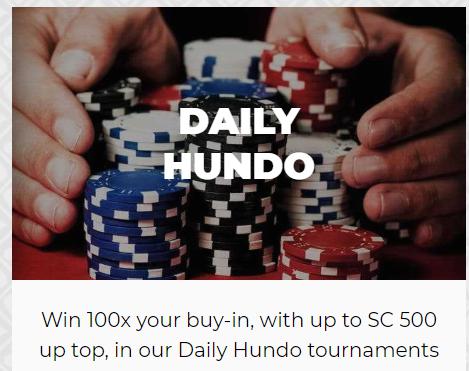 At Global Poker, customers can expect to be treated to some of the most outstanding game formats in the industry. There are a decent number of titles which makes choosing quite easy – adventurous players can go ahead and try as many titles as they want.
The best games on Global Poker are presented as lucrative promotions that are designed to give you a chance to win even more Gold Coins. They are lucrative in their own special ways making it easier for players to dive into some action-packed gaming adventures as they strive to protect their Gold Coins and earn more.


Tournaments
There are daily challenges, which will allow players to score points in the overall leader board as well as fetch extra SC$. Global Poker's has tournaments whose prizes are always growing every week, but this is not the only thing that makes them so lucrative.
The site includes a full schedule of online weekly tournaments and to help players keep up, the operator offers a Live Global Poker app that serves as a blinds timer for poker tournaments. The app is a very useful tool for Global Poker enthusiasts. With it, they are able to keep track of:
the remaining time for the current round in your poker tournaments
the amounts for small & big blinds
the next blinds, round number and ante!


How Payments Work at Global Poker
Global Poker doesn't use a traditional cash balance structure. Instead, the company has settled for a business model that allows it to operate in an uncertain regulatory climate occasioned by local restrictions.
As a result, the card room allows users to use a distinct set of currencies inherent to the portal. Gold Coins is a digital currency that is similar to play dollars available at other cardrooms. Gold Coins can be used to play with, but they cannot be exchanged for real money.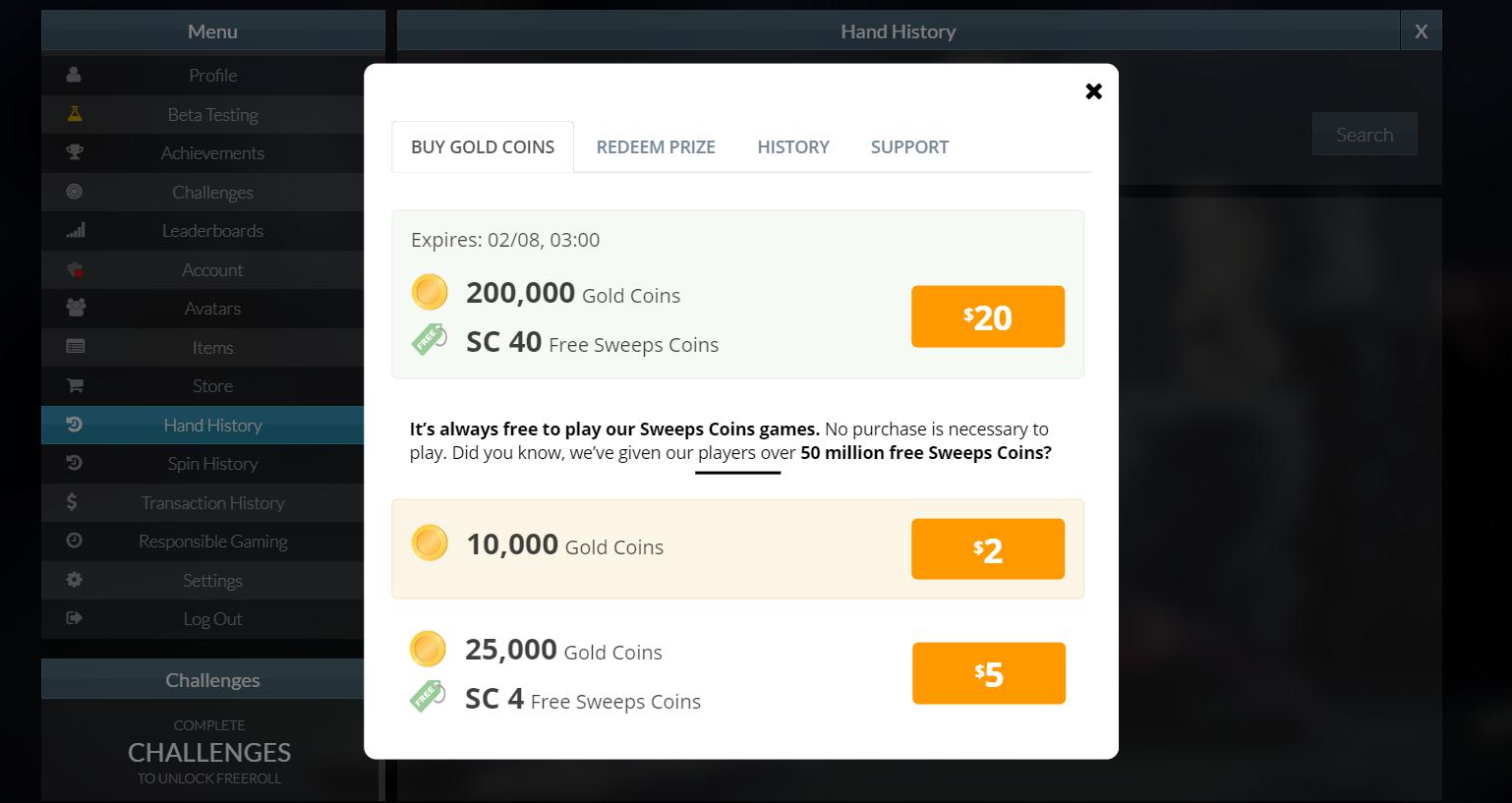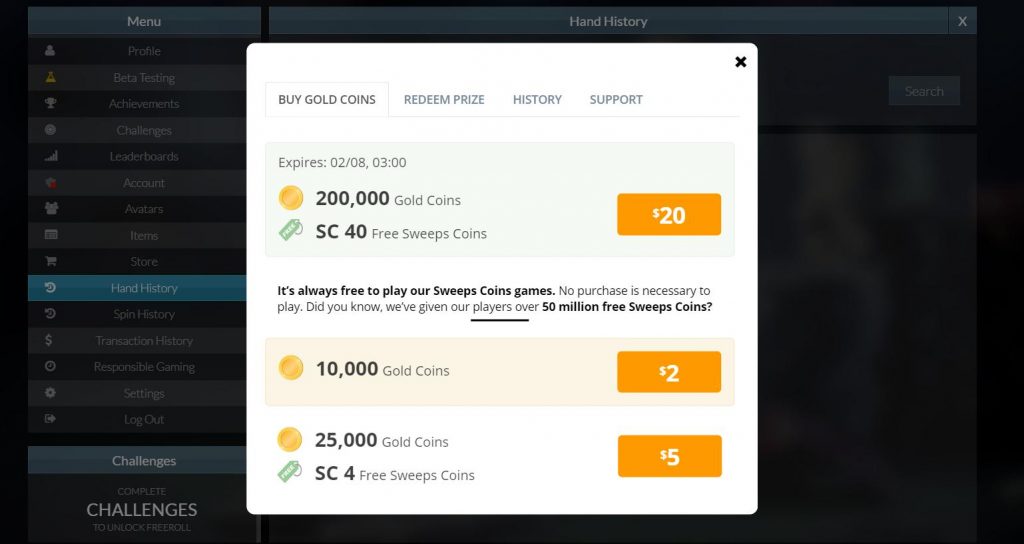 In other words, unlike a traditional online poker site, Global Poker does not allow players to deposit real money into their accounts. The gamblers are not allowed to able to play with real money since the site is a social gambling site where playing with real money has some rather severe implications. To purchase these Gold Coins, players are allowed to use a wide range of payment options such as MasterCard, Visa, Skrill, Amex, Rapid Transfer, ACH Bank Transfers and even bitcoin.
Instead, every time you make Gold Coins purchase (bar a few minor exceptions), you'll be granted bonus Sweepstakes, which will, in turn, grant you access to ring games and Sweep Coin tournaments. It's worth noting that Sweep Coins is a currency specifically designed for Canadian and U.S. customers. Players outside these two jurisdictions will have to make do with the site's other offerings.
Withdrawing Your Winnings
Once you have won using $weep Cash, you can refer to the Cashier section where you'll be able to use an authorized payment method to move your money from your account balance into your bank. This can be done through a number of popular banking options including MasterCard and Visa.
For their withdrawals to be processed, the players need to have no less than 50 $weeps in their accounts. All the withdrawals take between 3 and 5 business to be processed but customers can rest assured that the funds will arrive in their accounts in full.
Support at GlobalPoker.com
Global Poker invites you to contact customer support as often as you may need them. It's worth noting that the FAQ page often has the answer you are looking for. If you still think reaching out to customer care support directly is more appropriate, you will find the polite and helpful staff available 24/7 365. These are the ways through which you can seek assistance from the support staff:
Email – [email protected]
Facebook– globalpokerofficial
Twitter– @official_glp
Instagram– global.poker
Whichever means you to choose to reach Global Poker's support staff, you can rest assured that any issue or query that you have will be handled promptly and you can get back to your enjoying your favorite games on the site.
Verdict
If you are looking to play online poker in the United States, Australia or UK and want to make sure you are getting more value for your money, Global Poker is definitely a worthy first choice to consider. The operator has developed an intriguing ecosystem of tournament and game options, which will keep you going around the clock. It is worth it!
Don't miss out on this brilliant opportunity to monetize your understanding of poker, opting for one of the world's most trusted and optimized online card rooms.