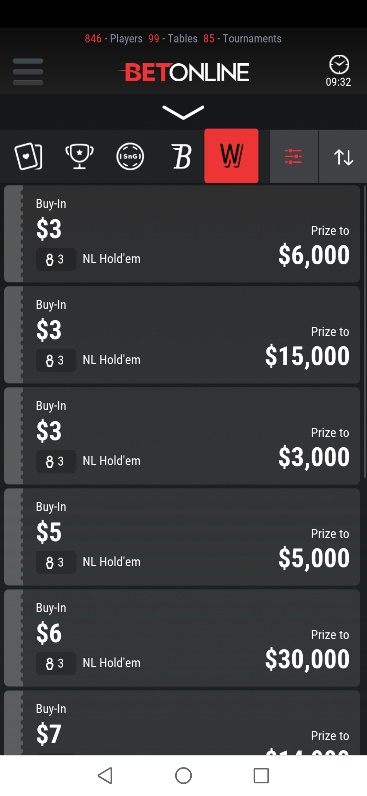 BetOnline has been in the online gambling industry since 2004 as a sportsbook maker, but it wasn't until they made a massive marketing push in 2011 that the brand, along with the creation of its online poker arm, BetOnline Poker, jumped into the spotlight and quickly built a solid reputation as one of the largest and best online poker room for US players from all 50 states – unlike many other poker sites which tends to be rather restrictive about which states they accept players from.
New players to this online poker room are welcomed with very attractive bonuses and existing players continue to enjoy a wide range of ongoing promotions. They also get to use one of the best poker software in business that has seen numerous updates based on member's feedback – an indication that BetOnline takes player's comments to heart and always strives to provide the best quality of service.
In addition to the brilliant selection of poker variations, BetOnline Poker also offers extensive casino games, as well as accept bets for a wide range of sports from the NFL to the NBA. Today, however, we will focus exclusively on the cardroom in our dedicated BetOnline Poker review.
Claim the 100% Poker Bonus Right Now
Save yourself the hassle and follow our quick guide to claim as much as $1,000 in bonus poker funds right now, without the need to scroll down to the dedicated poker section.
Here is how it works:
Jump straight to BetOnline Poker via the dedicated page link we offer and click on the Play Now button.
Register your account filling out your information truthfully as the cardroom will later double check to make sure.
Deposit at least $50 to activate the bonus and email the casino the NEWBOL promo code
The bonus funds will be allocated to your account within 48 hours
You will have 30 days to release your bonus funds
Don't Miss Out the Cash Games
Players will find BetOnline Poker's games to be quite to their liking. It won't matter what type of a player you are and whether you are here to grind your way into a solid bankroll or just dive into one of the weekend tournaments.
There are games for all. NL Hold'em and FL Hold'em start at a nominal bet value of .01/.02 and .05/.10 respectively, with the maximum bet size reaching $5/$10 and $1.5/$3 respectively. The selection of titles includes other cool variations of the game to name:
Omaha
Stud
32 Card Draw
Americana
Attention, Sit & Go's Bonanza
Perhaps the biggest draw in the casino remain the Sit n Go options, allowing you play for massive jackpots that could easily hit a $150,000 for a $30 buy-in.
For just as little as $3, you can hit a 3-player Hyper Turbo Sit 'n Go's jackpot equal to 5,000x of your original buy-in or $15,000. That is what we call a tempting offer altogether, and the pot will grow according with your bets – $30,000 for a $6 buy-in and $75,000 for a $15 buy-in.
All winners are entitled to 85% of the jackpot with the other 15% reseeding into the communal pool for the next round of winners to benefit from.
The Sit 'n Go's are very easy to complete and they offer a quick and smooth gameplay designed to boost your satisfaction from playing poker.
Join the Windfall Tournaments
To provide you with the right constellation of gaming options, BetOnline has created the Windfall Tournaments.
They are a sweet way to pay a small buy in and compete in a variety of NL Hold'em tournaments where the prize pools can range from $6,000 up to $30,000 with quite a few additional stops along the way.
How about BetOnline Poker's Traffic?
There is no doubt that BetOnline offers some of the quickest paced gaming options out there, but the real question is – are there enough players?
Put simply – yes. BetOnline is the busiest poker network in the United States and it often competes for the top #1 position in terms of traffic.
Perhaps the lack of super-big tournaments during some weekends could give a slight edge to other networks and poker rooms, but the truth is numbers at this website are pretty busy around the clock.
You will see between 280 and 1,000 players on regular basis, without there being any special landmark events – and that is during the week and considering the earliest hours of the day. We have seen the player count break 2,000 quite often, though, especially during rush hours and weekends.
So far, BetOnline attracts a superb crop of players from the entirety of the United States and owning your account at the website is completely worth it.
Is BetOnline.ag Rigged?
We have played at BetOnline.ag for over five years now and the company's offer has always stood our rigorous testing, offering legit poker games, tournaments and promotions.
As one of the true proprietor poker networks in the United States, BetOnline has extremely high standards to uphold, and there is nothing to even remotely suggest that the website is rigged, with the daily prize pools being some of the highest accessible to American players today outside the World Series of Poker (WSOP).
Today, the cardroom not only complies with player demands but it innovates and often exceeds expectations.
BetOnline.ag Poker is similarly focused on offering legal and accessible poker product available in specific jurisdictions, and if you are reading this, you are most likely connecting from a whitelisted state and can join one of the longest-running online poker sites in the United States to play for real money today.
In our experience, BetOnline puts an emphasis on securing the highest standards when it concerns your deposits and withdrawals.
Specifically, the cardroom encrypts all your information providing you with a layer of security and ticking off all prerequisites for a safe poker experience. If you are looking for a legit poker site, you have just found it.
Poker App
BetOnline.ag has long been available on mobile devices, providing players with the necessary comforts of a flawless gaming experience. We have seen a lot of questions asked and one has particularly stuck with us.
Does BetOnline have a dedicated poker app?
The answer is yes. BetOnline offers a stand-alone Android mobile application. As soon as you go to the mobile poker section of the website, you will be either prompted to play online for all Apple devices, or download a very light client that installs in the matter of seconds for Android devices.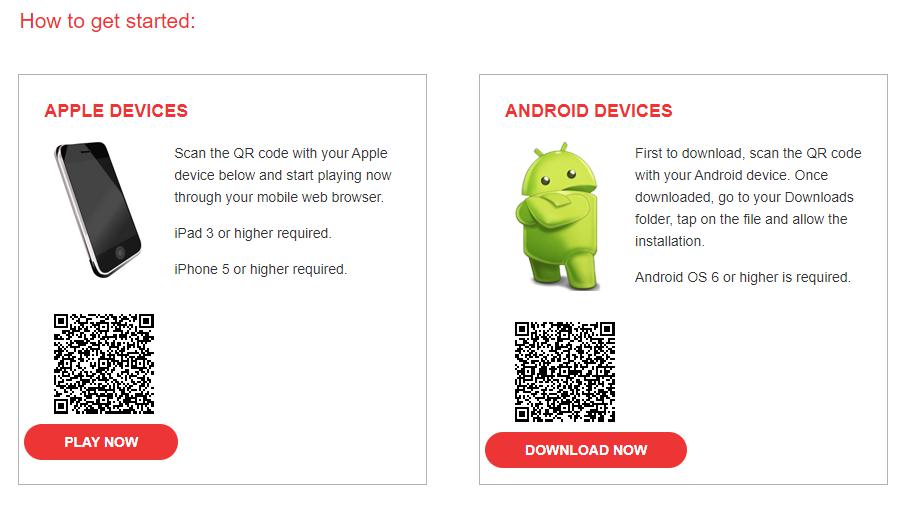 We will address both modes of gaming, but first, let's talk about the instant client and the overall mobile experience.
Mobile Poker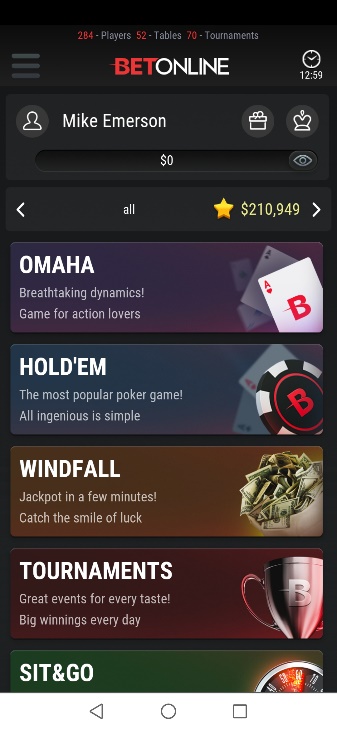 The mobile poker experience at BetOnline.ag is precisely of the level you would expect from one of the largest poker networks available to Americans today. Let's start with how simple it is to login:
Type in BetOnline Pokerin your browser or go directly to www.betonline.ag/poker-mobile.
One you do, you will see a screen prompting you to use a QR code, download the app or start playing right away.
Pick the option you like best and continue to the login screen.
Enter your information, including user name and password and choose whether you want your details to be saved.
Your password would need to meet specific security standards and use unique symbols. To further improve on the security of the experience, BetOnline assigns all players their unique login usernames that contain from a letter and numbers.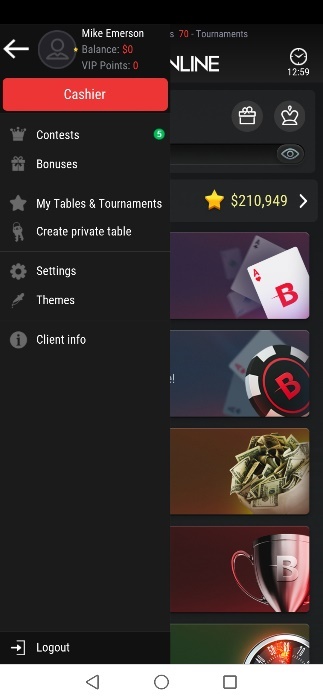 Once into the platform, you will be welcomed by a very neat-looking user interface. Everything seems to fit in its place, and you can quickly start browsing through each of the relevant section you are interested in.
All main types of poker, including Omaha, Hold'em, Windfall, Tournaments and Sit & Go are already available on the front screen when you first log in.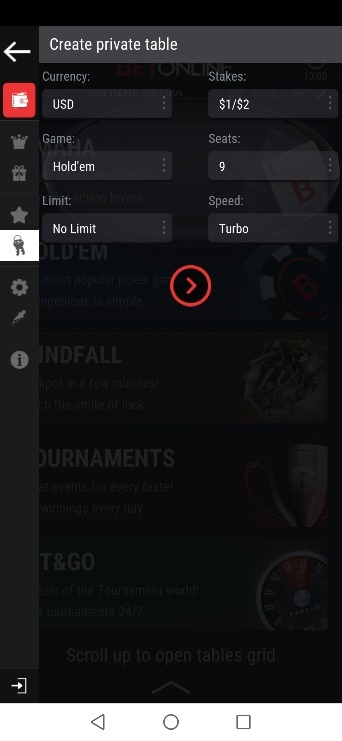 The mobile menu is available in the top left corner and clicking or rather tapping on it reveals a number of handy sections, including Contests, Bonuses, a player's current Tables & Tournaments and the ability to host your own table.
BetOnline's mobile poker client further allows you to adjust everything about the table, including the stakes, seats, speed, limit and of course the type of game you prefer.
The starter setting is usually $1/$2 and most players opt for the Turbo setting and Hold'em, although there are quite a few Omaha tables around.
Great Attention to Graphics
Instant play or Android app, you can rest assured that the graphics are crisp, rich and very much to American poker players' taste.
There are Advanced Settings to allow you to tinker around with the HUD and interface a little as well as with the general functionality of the client, so keep this in mind.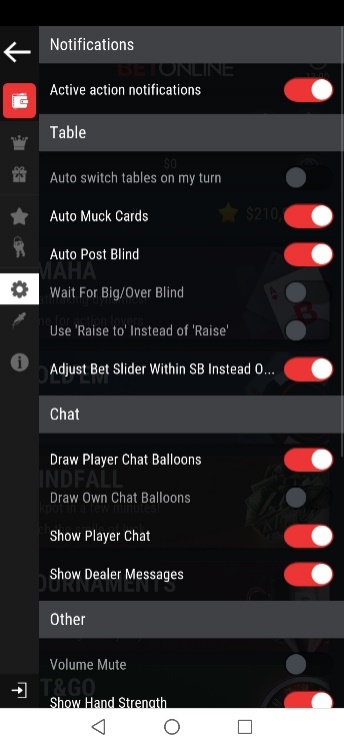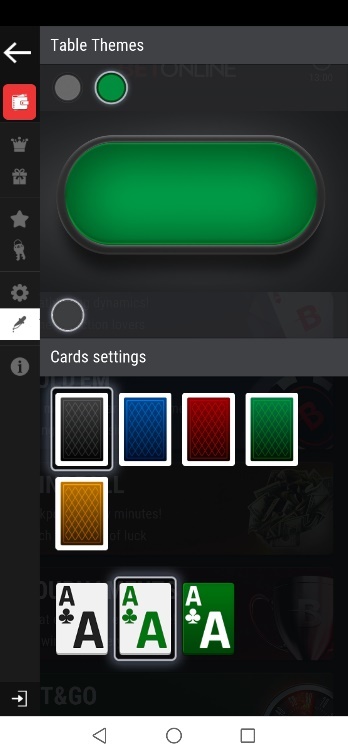 Whether it is cosmetics you want to touch up on or something related to the functionality of the website, BetOnline.ag Poker mobile is always there to offer a solution. Cosmetics are easy, as you get to choose from several colors, table themes and a pre-select suite for your cards.
As to the actual functionality of the mobile poker experience, you can tinker with multiple settings, such as:
Notifications
Table
Chat
Other
Sit & Go
Animation
For instance, you can theoretically set a toggle on an option that allows you to Automatically Reject Any Rematches.
If you are still new or just like to have a maximum number of visual aids, you can leave the setting that allows you to see hand strength, among the many helpful options part of the mobile experience.
Android App
As confirmed, BetOnline offers a dedicated app for Android devices. The question is – how good the android app really is.
Admittedly, we had our reservations at first, but once we have put the software to scrutiny, we quickly realized that this would be our only mode of playing moving forward.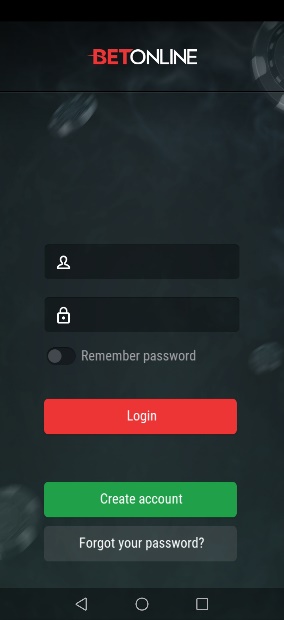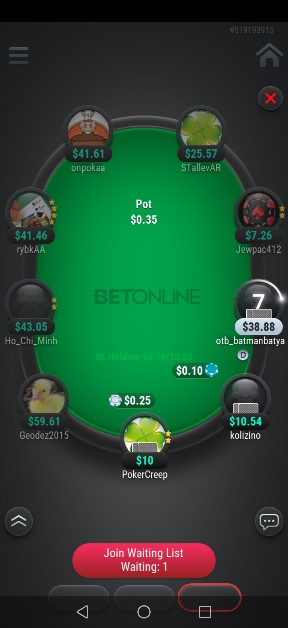 For starters, the app installs in the matter of seconds, consumes nominal bandwidth and doesn't stress the phone CPU.
You can play from any smartphone or even buy a very cheap make to have dedicated completely to your poker sessions.
Here are just some of the upsides of going for the Android app:
Lightning-fast installation
Minimal storage space used
Nominal bandwidth consumption
Variety of regular and multi-table games
Superb graphics and streamlined interface
Advanced customizable settings
A variety of tournaments and big pot events
Another great upside of the app is the fact it displays all current tables and tournaments as well as the total number of players online.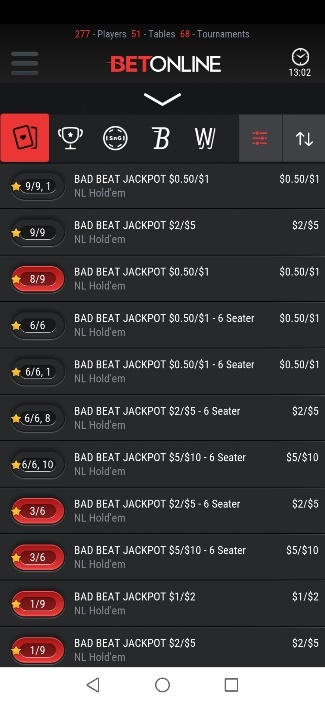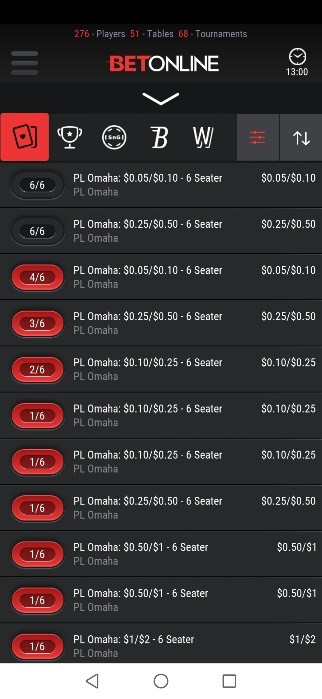 Convenience is another important aspect to us – and let's face it anyone who wants to spend a little while longer playing poker.
We could create a shortcut on our smartphones, as we do for our iOS devices, but it just feels more intuitive to have a dedicated android app directly installed.
The app allows you to look up important features such as the cashier section, a replay feature to analyze hands you might have let slip and an easy way to access your VIP Points all for good measure.
Is the BetOnline.ag Poker app available on the Play Store?
No. Because regulation often changes, BetOnline has decided to make sure it offers the app directly through its own website and this way players may always download the software and play from any whitelisted jurisdiction.
iPhone App
You are probably interested in finding out more about the BetOnline iPhone app. This merits a slight elaboration – BetOnline doesn't offer a dedicated app for iOS device aficionados, but there are viable instant play options we will discuss right away.
While you can't download a dedicated client, you can still play directly in the website and enjoy the exact same opportunities as Android app or Windows users.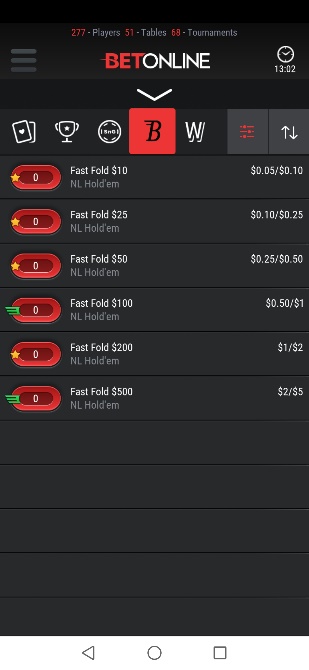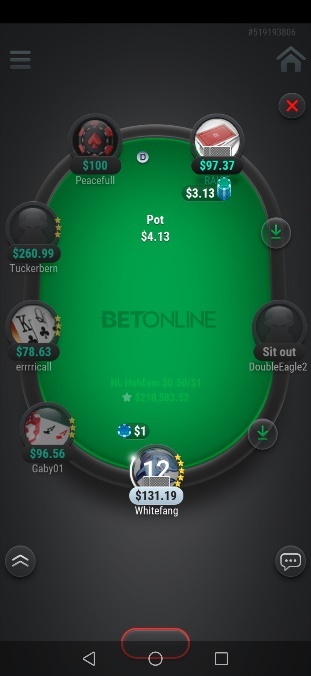 The iOS instant mobile experience is just as smooth and accessible and you will definitely be able to reap the fruits of a well-designed cardroom that wants to make it accessible for every player out there. Here are some of the upsides of playing iOS no-download poker at BetOnline:
Stable connection
Ability to access every feature form the desktop version
Quick access to the cashier and support for it
Every single tournament and event available to iOS users
BetOnline Poker for Mac
Another viable option to play from a dedicated client doesn't have to do specifically with the mobile experience, but rather Mac devices. You see, BetOnline actually has Windows and Mac clients and if you are looking for a slightly more immersive experience, you will surely find it.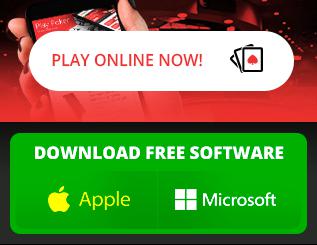 To download the free software, simply click on the relevant icon and in this case, BetOnline Poker Mac – Apple.
This will immediately prompt a download window which will store the file on your computer automatically, unless you have other settings in place. Once you have installed the software, it's time to login.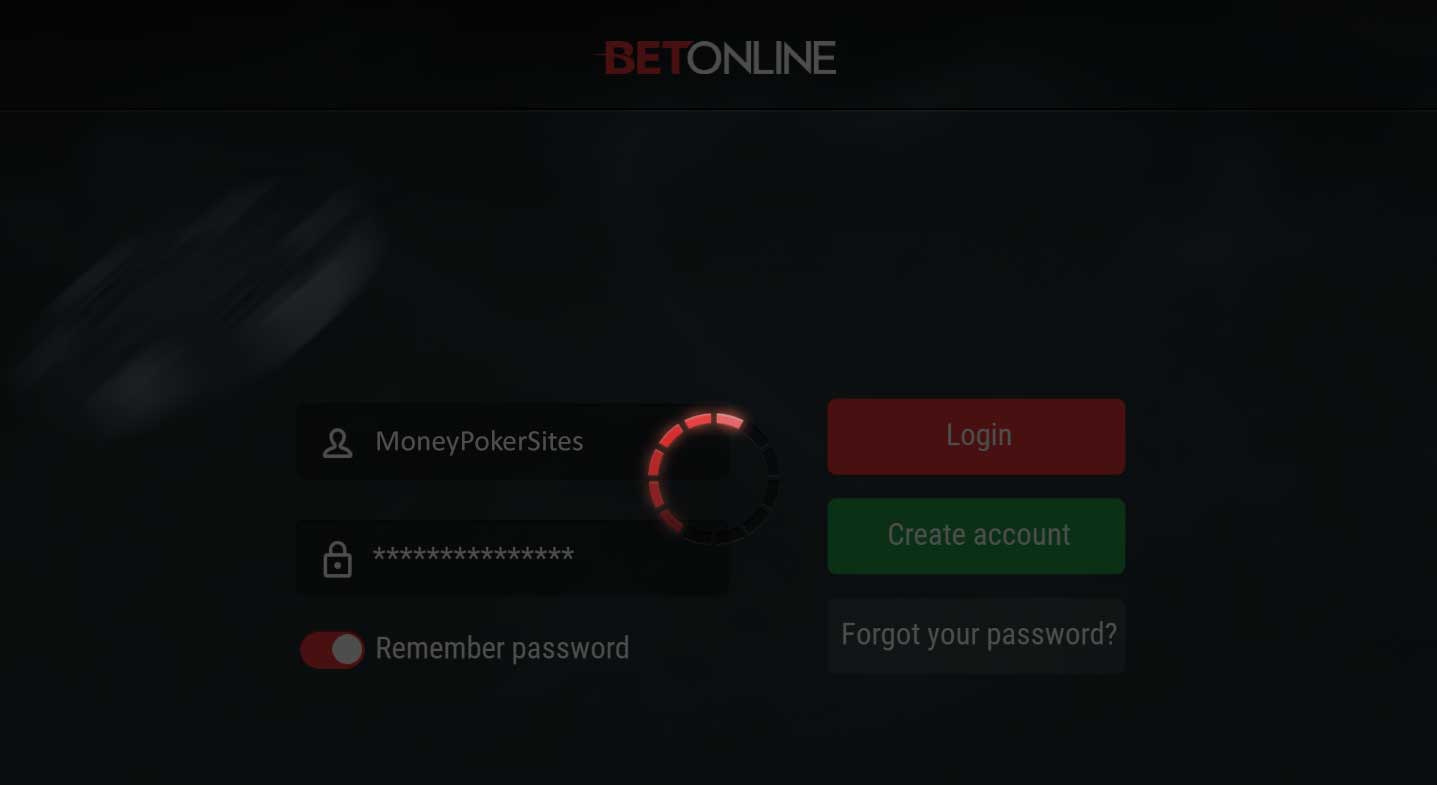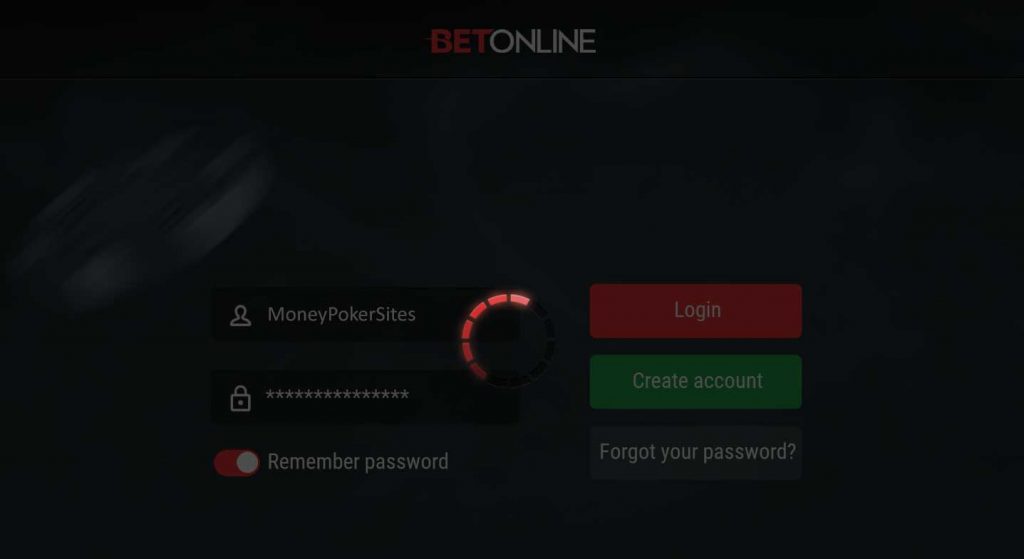 The Macintosh client works a treat and you will be able to set your computer with a reliable playing software you can access at a click. Just use the unique identifier allocated to you by the poker site and enter your password.
Poker VIP Points

The Poker VIP points are also known as POP points and if you look information about them, you will find it under POP on the main page. But what are these points?
They are simply awarded to players as a reward for participating at having a seat at a poker table and contributing to the overall rake. Presently, a VIP or a POP point is allocated at a rate of 1 PP for every 10 cents you contribute to the rake.
Keep in mind, however, that the maximum rake paid at any given table is $3 regardless of the current size of the pot. POP Points are also awarded for tournament participation and for every $1 you bet, you will receive 10 POP Points back.
Comp Points
Comp Points are used in the bonus system as a currency to release your bonus. You can claim Comp Points by either participating in tournaments or joining cash games.
Comp Points are also exchangeable at a rate of 10 Comp Points for 1 POP Point striking an interesting balance between the currencies presently on offer at BetOnline.
BetOnline Poker Tournaments
BetOnline Poker prefers to focus on steady gameplay daily rather than promising a big Sunday showdown – not that it doesn't, but the overall strategy of the website has helped it build a healthy player base daily.
Tournaments are clearly a huge draw and the card room has created an accessible and helpful interface to help players stay on top. To get a quick go at the available tournaments, just go to the Tourneys tab:


You can see everything that you need to know about a game before you join and decide to participate, such as:
Start date
Type (Full ring, 6-Max, 5,000/3,000, 10/8-minute Blinds)
Game (NL Hold'em/PL Omaha)
Buy-ins ($1.10 – $109)
Players
Prize ($75,000, $1,413.50)
Status (Registering, Completed, Running, Late Registration)
There are multiple ways to pick a tournament. It's worth noting that the desktop and mobile interface use slightly different. If you have more screen space, you will be able to see all of the information you need all at once.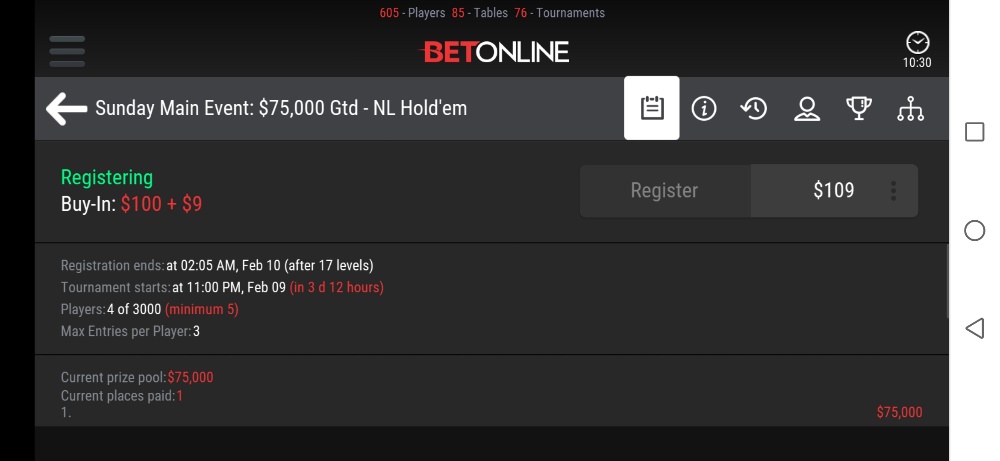 For mobile players, though, it might be worth taking a little longer to look up the available options. Essentially, the same information remains available when you click on the "Tournaments" section (when using mobile), but you will have to tab through the different sections for all the extra information you need.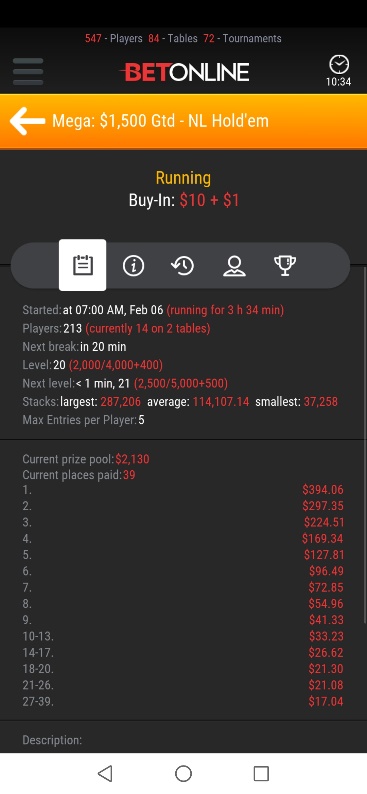 Deposit Options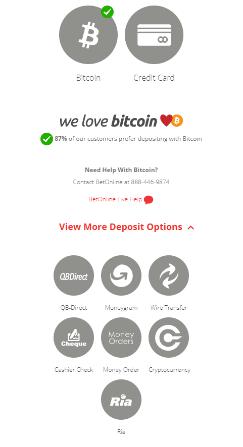 It is possible to deposit funds into a BetOnline account via a number of ways. Deposits are instant and withdrawals, depending on the method used, can arrive in your account in as little as 12 hours.
There is a small fee for each transaction which varies according to payment method.
As one of the first sites to accept crypto-currencies, it also offers Bitcoin users a 100% match bonus for a first deposit up to $1,000.
The following deposit options are available:
Bitcoin
Credit card
QB-Direct
Moneygram
Wire Transfer
Cashier Check
Money Order
Cryptocurrency
Ria
Before you can make an individual deposit, however, BetOnline Poker will ask you to finalize your address registration. In case you haven't yet filled out your exact street address, you will be prompted to do so as soon as you click on any depositing option: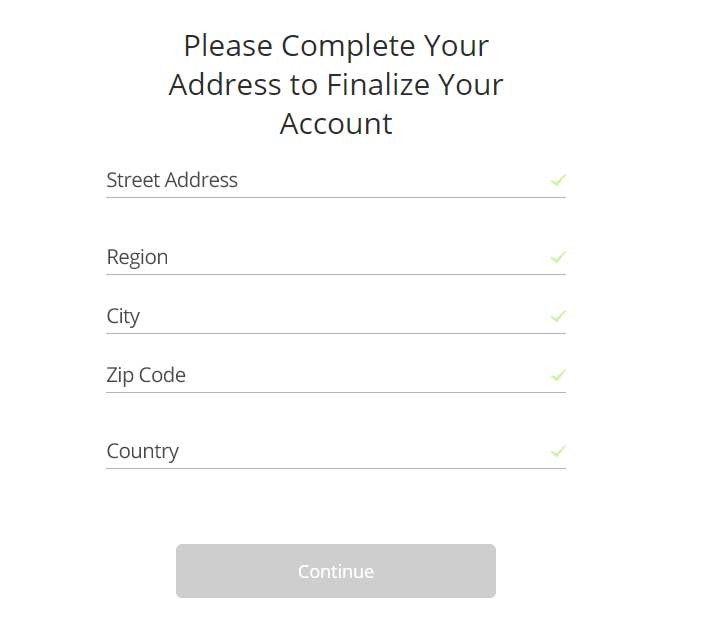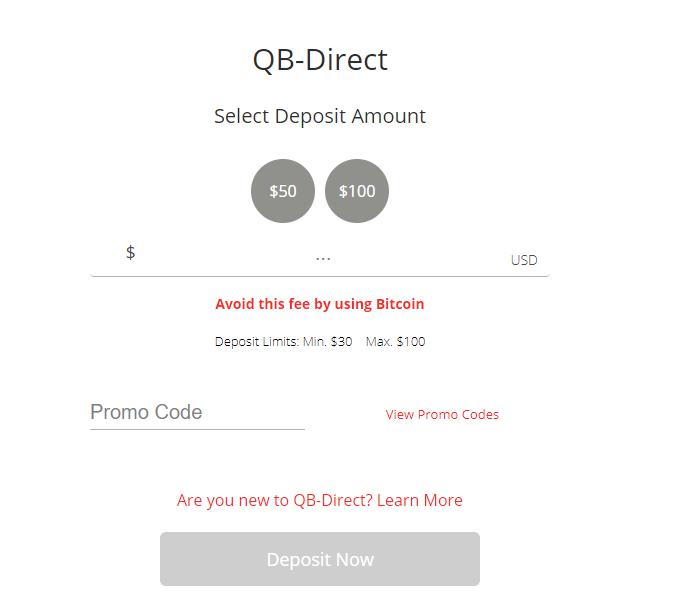 You will immediately be able to see what sums are available to deposit as well as what the minimum and maximum amounts are. Each payment option will come with a place where you can insert a bonus code if you have one.
For your convenience, we have thoroughly reviewed the payment section of BetOnline.ag Poker, and this is the most complete information you will find to date:
| Method | Min. Deposit | Max. Deposit | Fees | Success Rate |
| --- | --- | --- | --- | --- |
| Bitcoin | $20 | $10,000 | 6.5% | 100% |
| Credit card | $50 | $200 | None | 95% |
| QB-Direct | $50 | $100 | None | 100% |
| Moneygram | $50 | $600 | None | 100% |
| Wire Transfer | $1,000 | N/A | None | 100% |
| Cashier Check | $1,500 | N/A | None | 100% |
| Money Order | $300 | N/A | None | 100% |
| Cryptocurrency | $20 | $10,000 | None | 100% |
| Ria | $50 | $500 | None | 100% |
Speaking of success rate, BetOnline Poker still could face some minor hiccups when it comes to clearing a deposit. Don't be alarmed – this is mostly to do with your bank giving the go-ahead on a deposit.
Credit cards have an average success rate of 95%, but if you chose Discover or American Express, you are already twice more likely to deposit successfully and without having to worry about the clearance rate.
The only downside – if it is such – is that you need to deposit at least $50 with a credit card. There seem to be no fees associated with any of the payment methods for deposits. Credit card fees on deposits are 6.5% which is slightly better than last year's when the cardroom charged 7.5%.
All your deposits are instant bar for a Cashier Check and Wire Transfers which could take up to seven business days to complete. If you aim at speed, stick to Bitcoin, credit cards, and other cryptocurrencies.
Payouts
Even more importantly, you will want to know everything you can about payouts. Playing poker is always fun, but it's even more fun to know that you can always withdraw your money without any hiccups.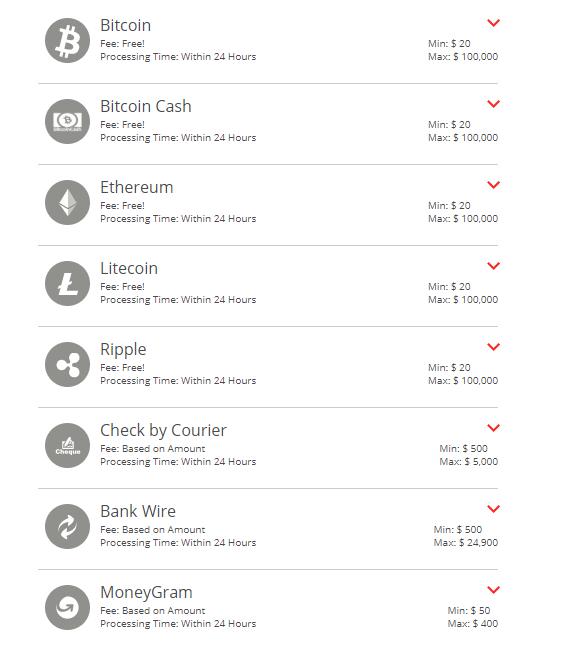 You can withdraw quite the formidable amounts when it comes to BetOnline.ag Poker, up to $100,000 in fact. All available cryptocurrencies provide you with quick 24-hour withdrawals on the spot and you can request a payout as little as $20.
For Check by Courier, Bank Wire and Money Gram, you can still have a fairly big withdrawal at any time, but the downsides here is that fees apply and while the processing time is 24 hours, it will take longer for your money to arrive to your bank account.
| Method | Min. Payout | Max. Payout | Fees | Processing Time |
| --- | --- | --- | --- | --- |
| Bitcoin | $20 | $100,000 | None | 24 hours |
| Bitcoin Cash | $20 | $100,000 | None | 24 hours |
| Ethereum | $20 | $100,000 | None | 24 hours |
| Litecoin | $20 | $100,000 | None | 24 hours |
| Ripple | $20 | $100,000 | None | 24 hours |
| Check by Courier | $500 | $5,000 | None | 24 hours |
| Bank Wire | $500 | $24,900 | None | 24 hours |
| MoneyGram | $50 | $400 | None | 24 hours |
You can pick the method you feel most at home with and request a withdrawal. In our opinion, it's worth spending some time studying how cryptocurrencies work as they offer you the quickest overall cashout without losing any additional funds covering transaction fees.
Promo Codes
BetOnline offers quite a few opportunities to claim some way to boost your poker funds. The main bonus remains the new player offer which will match your money by 100% up to $1,000. To activate the bonus, though, you need to use the 'NEWBOL' promotion code.
| | | |
| --- | --- | --- |
| Bonus | Promo Code | Amount |
| First Deposit Bonus | NEWBOL | 100% up to $1,000 |
Bonuses
BetOnline offer a wide range of different bonuses. There is a 100% first deposit bonus on your first deposit between worth anything between $50 and $1,000. This is one of the most generous poker bonuses you will find out there today and it's definitely worth exploring.
Mind, the bonus has been changed a few times throughout the year. A few years back, BetOnline Poker offered $2,500, but the card room's management decided that the amount stressed players out, and they decided to adjust the total amount.
Make Sure to Activate the Bonus
In order to activate this, new players need to contact the poker room via email with 'NEWBOL' in the subject line and the bonus will be released $5 at a time.
Emailing the card room is often a part of the bonus offer that players simply pass up on, and we ourselves are guilty of that. However, we have learned our lesson and are here to advise you to never skip on a bonus T&C's.
The bonus could take up to 48 hours to be credited to your account so keep this in mind as well. And far more importantly, remember that you have 30 days to roll over the bonus.
We have seen some sources say that you have up to 60 days, but after confirming with customer support, the bonus deadline is indeed within the first 30 days of the promotion being allocated to your balance.
How to Release the Welcome Bonus?
BetOnline Poker doesn't expect you to sit around and rollover your bonus the way casinos ask from you. Instead, you will be able to release your funds in increments, making for a smooth and productive overall experience.
You will have to collect Comp Points and for every 5,000 you win, you will be able to release $10 of your bonus funds. There is a general deadline on the bonus set for 30 days within claiming the promotion, so keep this in mind.
Comp Points are accumulated at a rate of 1 point per every cent you contribute to the rake as per the latest T&C's published at BetOnline.ag.
You can think of this bonus system as a sort of a rakeback system where you are allowed to immediately claim part of your funds back.
If you play at $0.50/$1 NL tables you can be releasing around $2-$3 of your bonus every hour, whicih is a decent rate.
Check the Leaderboards
We poker players are competitive creatures by nature. And this is where the $10,000 Weekly Hand Leaderboard can be quite incentivizing to players who not only want to make the most of their own and bonus funds, but also don't mind earning a distinction – and a piece of the prize – on the leaderboard. All prizes are allocated according to the distribution as indicated by the screenshot: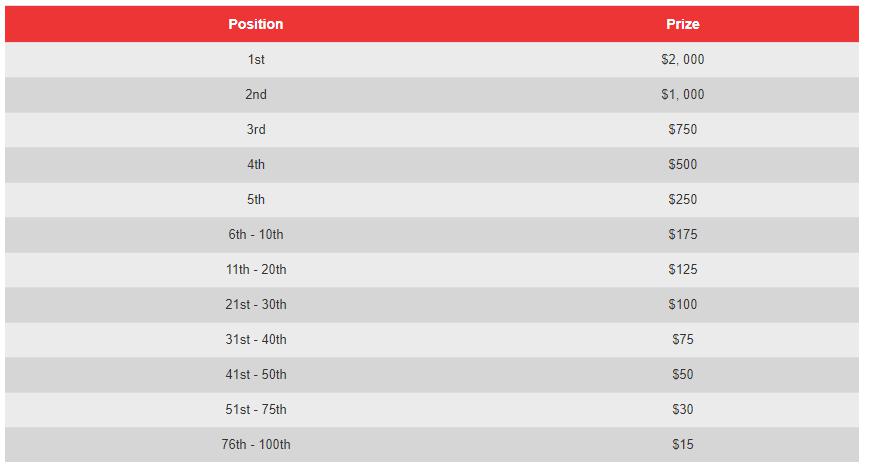 If you want to take part in the Leaderboard Challenge, you will have to opt in using the Contests menu where you will see all current events you can participate in that have a more global reach and are played over time for additional prizes, such as:
Mission Grinders: Weekly
SNG Grinders: Weekly
High Hand Leaderboard
Iron Man
Mission GrindeR: Monthly
Find Out More about the Poker Network
Poker networks are ecosystems where players from all over the United States come to experience some of the best poker variants, tournaments, and contests. Thefore, picking the right network makes all the difference.
Whether you are a high-roller or a grinder, you will always want to be in the know as to which the hottest networks are, as they will provide you with the top bonuses, biggest prize pools, and most populous websites where you can keep the grind going on.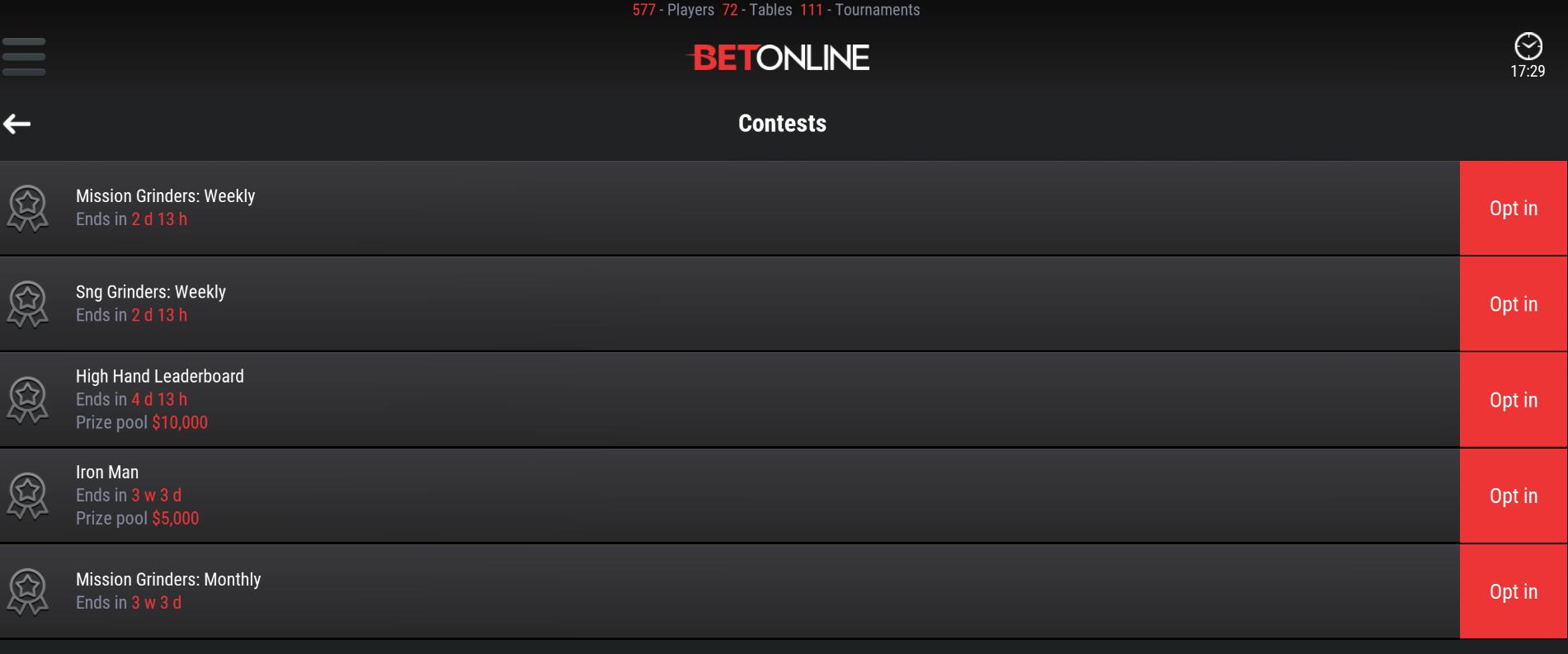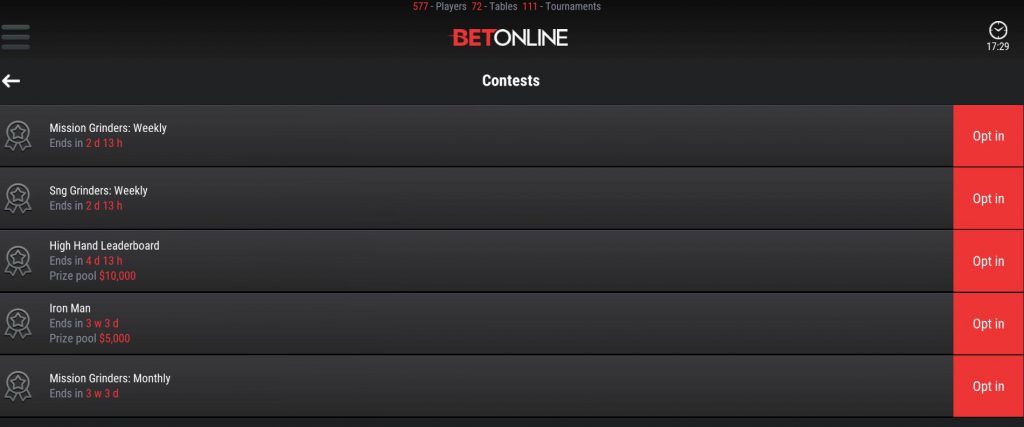 BetOnline.ag Poker is one such place. It previously ran on the Chico network, but then, having attracted a fair share of players by itself, the card room has decided to create its own proprietor network.
As a result, the card room attracts a fair share of players quite easily and even in off hours you can see between 200-600 players online flocking to play daily tournaments or join the grind in SNGs or regular games.
But as previously noted, the player numbers easily break past the 1,000 mark for no apparent reason at all, making for a very amusing experience indeed!
Bitcoin Banking
In an effort to achieve this, it was one of the first in the world to allow players to deposit funds using the crypto-currency Bitcoin, which continues to grow as one of the most popular forms of payment method for US players thanks to its more or less instant processing times, and more importantly, its near-perfect success rate.
The real question is – is Bitcoin worth it?
And we will give you a simple answer – yes. In fact, 86% of all poker players have decided to adopt Bitcoin at BetOnline as the solution has proven to be the most flexible option. Someo of the upsides include:
Nominal banking limits
Deposit with as little as $24
Cash out within 48 hours
Avoid any fees
Take Your Time to Learn About Bitcoin
Now, Bitcoin poker will come with its own challenges, but the good news is that finding out more about this solution shouldn't take you too long to grasp. Our advice is to take 30 minutes to study what Bitcoin is and how it can help your game.
Here are several steps to follow to set yourself up with Bitcoin:
Go to Bitcoin.org to see a detailed list of Bitcoin exchanges and crypto wallets.
Make sure to purchase a crypto wallet, which is used to story your Bitcoin.
Buy Bitcoin from an exchange you trust and head over to BetOnline's cashier section.
Use BTC to deposit and request
Remember that your Bitcoin information should remain private at all times and you should make sure not to share your unique identifier used to access your crypto wallet and authorize payments.
Software
When BetOnline Poker first launched, one of the weaker performing aspects of the site was its poker software. It received considerable criticism from its users about things such as blurry graphics, dull animations and poor sound quality. But, like any good company, BetOnline listened intently to its customers' feedbacks and performed a massive overhaul on its proprietary poker software that not only resolved the previous issues, but utterly surpassed all players' expectations. It is now highly regarded as one of the best poker software in the US market.
Now players get to enjoy crisp graphics and exciting and fun animations, along with authentic sounds that add to the whole poker gaming experience. It's not all about looks either, as the software performs flawlessly at its core, providing an intuitive user interface, glitch-free actions, and most importantly, the poker software is quick and easy to download and is compatible on virtually all devices that have access to a browser. This includes PC, Macs, and mobile devices such as iPhones, iPads, Android devices for playing on the go.
Thanks to a random number generator incorporated into the games, players can be assured that all gameplay is 100% random and fair. In addition to this BetOnline use 256-bit SSL encryption technology which makes all transactions and players' personal information impervious to outside attack. Security is taken very seriously by BetOnline.
BetOnline Customer Support
Player satisfaction is taken very seriously at BetOnline and that's why they have a customer service team available around the clock, seven days a week. Friendly operatives are waiting to assist you and they all speak English. Other languages are available upon request.
BetOnline is contactable via telephone on a toll-free number or email which they endeavour to reply to within two hours at all times.
It is also possible to raise any queries by talking to an operative on BetOnline's Twitter or Facebook accounts.
There is currently no live chat facility, but with the other range of customer support methods on offer it is very easy to get assistance.
BetOnline Poker Customer Service Methods
Live chat: Available in the poker website, app or instant play
Telephone: 1-888-426-3661
Email: [email protected]
Screenshots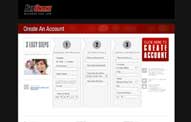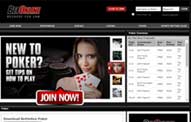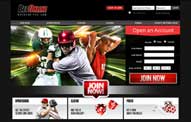 Verdict
BetOnline is the absolute best choice for American players as it is open to all from any state, which is a rarity in the online poker world.
No matter where you are in the world you cannot fail to be impressed by the huge choice of bonuses which are on offer. There are literally thousands of dollars in free money available to all players. All games are easy to play in the downloadable version of the casino and there is a great team on hand to help you should you need it and some of the withdrawals are the fastest in the industry.
Frequently Asked Questions about BetOnline
✔️ What network is BetOnline Poker on?
BetOnline runs on its own proprietor poker network after it seceded from the Chico network a few years back. Today, it is one of the most frequented card rooms there are.
✔️ Is BetOnline Poker legitimate?
Even though BetOnline doesn't hold a license presently, the company has long and trusted reputation and it stands as one of the most legitimate poker card rooms available to American players.Even though BetOnline doesn't hold a license presently, the company has long and trusted reputation and it stands as one of the most legitimate poker card rooms available to American players.
✔️ Is BetOnline Poker safe or rigged?
Absolutely not. BetOnline has created one of the most trusted poker networks available to U.S. players and it upholds the strictest regulations in order to make sure everyone is complying with the industry's standards. The card room expects players to be of the legal playing age and presently has jurisdictions it doesn't serve to comply with the law.
✔️ Can I play betonline poker from my state?
Presently, BetOnline Poker is available in the entirety of the United States bar New Jersey which New Jersey left in 2019 to comply with regulations.
✔️ Can you play BetOnline Poker on mobile or iPad?
Yes, BetOnline Poker runs smoothly on both mobile devices as well as tablets as iPads. You can experience
✔️ Can you play BetOnline tournaments on iPad?
BetOnline tournaments are quite fantastic and they will allow you to opt-in regardless of the operating system or device you are using. In light of this, it's perfectly okay to connect and compete in a poker tournament on BetOnline.ag with an iPad.