WSOP Social Poker Lets You Play to Win a Virtual Bracelet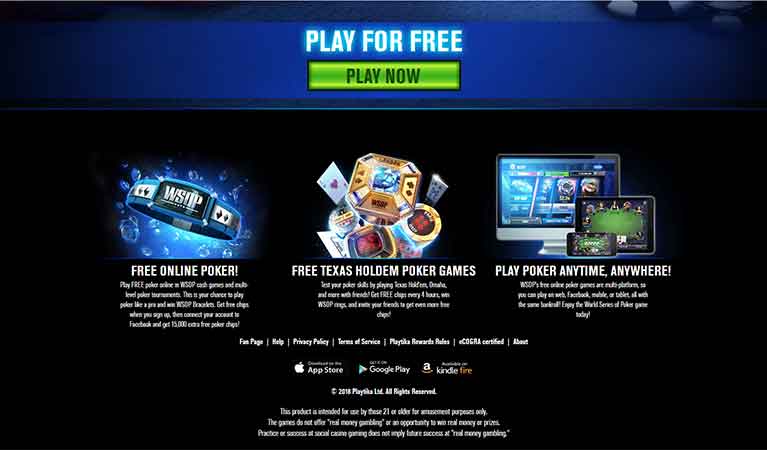 Needless to say, the 50th Annual World Series of Poker (WSOP) has been all the buzz since it kicked off. This is totally expected not only because the tournament series is one of the biggest annual poker events but also because this year's leg of the event is the culmination of 50 years of experience and memories. Now, everyone has the chance to be part of the action but only a small portion of the poker community is able to be at the actual gaming tables. The rest have to stick to their screens or be spectators. Well, this is not necessarily the case after all.
As it turns out, the World Series of Poker (WSOP) has a social poker app that can be used by players to indulge in a bit of WSOP poker action and offers the opportunity to win a virtual WSOP gold bracelet. To make it even better, the WSOP social poker app is totally free and offers a very simple and user-friendly signup process. In addition to that, once you sign up you are awarded 250,000 in free WSOP chips as a welcome bonus. For players who opt to link their Facebook accounts, there are 15,000 more WSOP chips for you. Still, there are even more free chips being given to players every four hours and all you have to do is log in to claim them.
The Features
Unsurprisingly, there is so much to the WSOP social poker than the pretty lucrative welcome bonus and free chips. For die-hard poker enthusiasts, this is going to be a great poker gaming option since the app allows you to purchase millions of virtual poker chips for a little money and this significantly boosts your account.
All of the games that are available in the social poker app are amazing and to make the experience more personal, they are always based on one's experience level and stack size. To start, one can play in the lowest stake 300,000 WSOP chip tournament. Over time the players will be able to build their experience and stack size so as to be able to play in the massive 80 million WSOP chip tournament that awards a whopping 2.64 billion WSOP chips to the winner.
As for the available cash games, the WSOP social poker app offers options that in both no-limit hold'em and pot-limit Omaha formats – these are based on the players stack size and the number of available seats. To get started, all you need to do is to click on the "Play Now" button and the app will automatically place you in a game that is suitable for you. So, if you are looking to be more than just WSOP spectator, sign up on the social poker app and dive into the fun and exciting poker action.