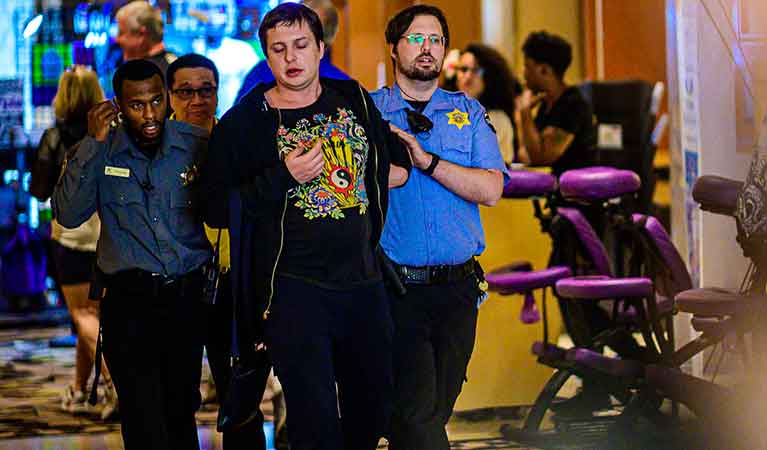 Last week, on Day 1c of the 2019 World Series of Poker Main Event, viewers and other poker players were treated to a lot of drama as two players were disqualified due to some inebriated antics. One of the players that were disqualified was Russian poker pro Georgii Belianin – he was reportedly disqualified after winning a small pot and swiping a dead stack into his own. The poker pro was then escorted out of the gaming premises by security after less than an hour of gaming on entry flight Day 1c.
What Really Happened?
According to witnesses that were present during the event, the Russian poker player won a small pot and when he reached out to claim chips, he placed his arm around the stack of the player who was sitting to his left and collected that stack as well. The witness also pointed out that Georgii Belianin did this while smiling which, in a way, implies that he committed the offense as a joke.
Well, no one as amused by this unexpected attempt at humor. Jack Effel, the Vice President of the World Series of Poker, arrived at the scene almost immediately and escorted Belianin out of the tournament playing area before handing him over to security.
"The chips that you have in front of you are the ones that belong to you, you shouldn't be touching chips that don't belong to you. Plain and simple. Discussing beyond what was seen at the table, everybody saw the exact same thing – he took the chips that were next to him, they didn't belong to him and you can't do that when you're playing the Main Event," the WSOP vice president said after Georgii Belianin was whisked out.
Tom Peterson, who was seated next to the Russian player said that he was drunk hence the rather uncharacteristic behavior.
The Consequences
For the offense, Belianin's stack was removed from the play but his $10,000 buy-in was left in the prize pool. As if that is not enough, the poker pro has also been banned from all Caesars properties. He did try to make his way to the premise later on and was arrested for trespassing and he ended up spending the night in a Las Vegas jail.
Fortunately, the poker player acknowledged that he had indeed made a mistake and he took to Twitter to address the situation and deliver an apology for his behavior. He further noted that he did have a problem with the decision that was made by Jack Eiffel to disqualify because he deserved the punishment. In addition to that, he also pleaded with the powers that be to reconsider the ban since his career would not be able to move on if he could not play at any WSOP event or Caesars property. Luckily, his pleas were backed by other players who not only pointed out that it was the first time he had committed such an offense and that they had positive experiences playing alongside him prior to the awful incident.