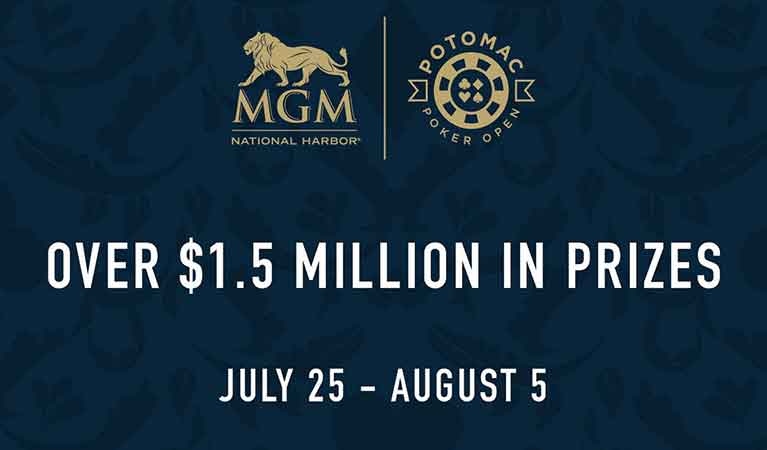 Ready for some more poker action? If you are, then all roads should lead to the MGM National Harbor (July 25) for the annual Potomac Poker Open, a 12-day poker series that will feature 14 events with over $1.5 million in prizes. As always, poker players and enthusiasts can expect all the events to be action-packed and exciting.
Some of the most notable events include the $3,300 buy-in, $1,000,000 GTD Main Event. This year, this main event will be offering double the guarantee offered in 2018. Also, the main event will have three starting flights: 1A beginning at 11:00 a.m. on Aug. 2, 1B at 11:00 a.m. on Aug. 3, and 1C at 6:00 p.m. that same day. The players will be given 60,000 in starting chips for the tournament. Other events that are definitely going to attract a lot of attention are the $370 Opening Event which will run from July 25-28 and the $370 Large Stack Big Blind Ante that will run from July 31-August.
In addition to the aforementioned tournament events, this year's Potomac Poker Open will also host several different types of games and formats. These include a $370 five-card pot-limit Omaha event, a $585 eight-game mix event, a $250 senior's event, a $370 short deck event, as well as a $1,125 heads-up no-limit Hold'em event.
Big Boost for The MGM National Harbor
MGM National Harbor is considered to be the premier gaming and entertainment venue located on the banks of the Potomac just outside of Washington DC. The property boasts of a 3,000-seater theater, 308 luxurious hotel rooms, luxurious restaurants as well as a massive gaming floor. This makes it the perfect spot for the Potomac Poker Open which is attended by some of the biggest names in poker.
"We are happy to be hosting this series for a third consecutive year, showcasing our new poker room which was built in 2018. We look forward to showcasing the MGM product and the MGM level of service to players, and not only those from the DMV, that is the D.C., Maryland and Virginia area, but also players who will join us from around the country," said Johnny Grooms, Director of Poker at MGM National Harbor.
In fact, the Potomac Poker Open is expected to boost the entertainment facility's revenue – things have not been going so well for the venue for the last two months. In May, MGM National, Harbor posted the first-ever year-over-year decline in gambling revenue. In June, gaming revenue went down 4.1 percent. Clearly, an intervention is needed to break this trend and hopefully, the Potomac Poker Open will help.