Online Poker and the New DOJ Wire Act Opinion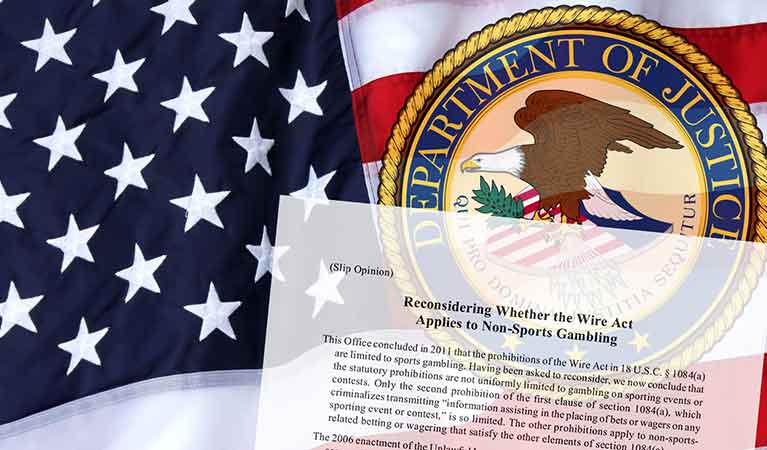 Last Monday, the United States Department of Justice issued a new opinion regarding the Interstate Wire Act of 1961. According to the new opinion, the law's prohibitions were not limited to sports betting as previously stipulated by an opinion that was issued back in 2011 – instead, it extends beyond sports betting and covers other forms of online gambling as well. This will include online poker, an industry that is already thriving in a few states.
In fact, three of the states that have online poker industries have already formed liquidity sharing pools and it was expected that other states who are considering legalizing or have already legalized online poker would join the player pools soon. The exact implications of the new opinion are still quite debatable but it is quite clear that while intrastate online poker may be immune to its effects, the interstate online poker partnerships are definitely going to take a hit. The biggest issue, so far, is that fact that the new opinion has placed a grey cloud over which forms of online gambling are legal and which ones are illegal.
Slowed Down Efforts
A number of states have recently introduced online gaming legislation, but with the new opinion, these states may take a cautious approach going forward – there would be no point in expending state capital in enacting laws that could possibly be nullified by the courts. In Pennsylvania, for instance, online poker operations run by licensed casinos were expected to go live early this year which might not be the case anymore.
In response to the new Department of Justice opinion, Douglas Harbach, the Pennsylvania Gaming Control Board's communications director, the regulator intends to discuss the new Wire Act opinion in order to ascertain the impacts it is likely to have on gaming activities in the Keystone State. Meanwhile, since all of the state's online gaming are intrastate and confined to its borders, the gaming regulator will continue to regulate them as stipulated in the Gaming Act.
As mentioned earlier, it is the interstate online poker compacts that are at risk especially because of a clause of the Wire Act that states that it applies to all forms of electronic gambling transactions. This clause prohibits any gambling-related entity from transmitting wire communications that entitle the recipient to "receive money or credit" either "as a result of bets or wagers" or "for information assisting in the placing of bets or wagers."
From a general point of view, the combined player pool that the new opinion is trying to do away with would probably have had a tipping-point effect on online poker in the United States. For various gaming operators, the importance of having a large market of poker players would have been monumental to their growth as well as the growth of the states that are part of the poker pool.