$10K Bracelet Bet Between Hellmuth and Negreanu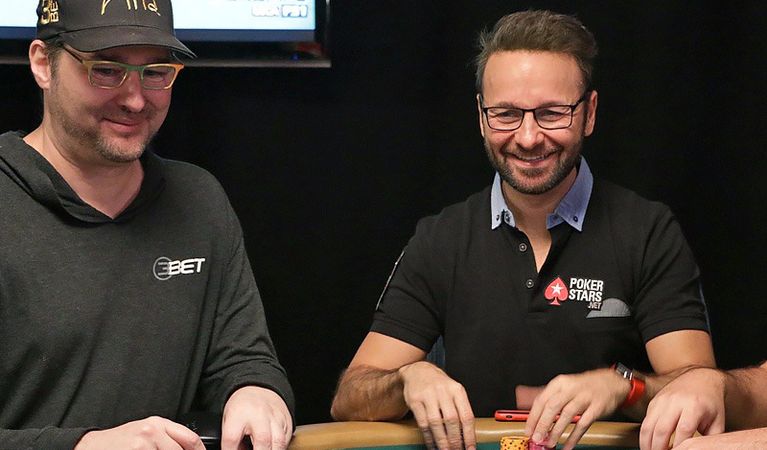 What could be more exciting than Joe Cada winning his third WSOP bracelet? Hellmuth and Negreanu facing off to see who can get more WSOP bracelets. Doyle Brunson is the one stirring the fire between Hellmuth and Negreanu, with a Twitter challenge. He is trying to get two takers for a bet. He is asking who is going to get more WSOP bracelets this year between Negreanu and Hellmuth. His tweet has gotten plenty of responses, with several pro Hellmuth and just as many for Negreanu.
Brunson tweeted that the Daniel haters say he is a terrible player and anyone could get more bracelets than him. The tweet was posted after Negreanu was on the social media platform to discuss Day one of the Super High Roller Bowl at Aria in Las Vegas. He ended the tweet with $100k max.
Dr. Marvin Karlins, the one behind A Chip and a Prayer book, responded to the challenge saying he would take that Hellmuth will gain more bracelets in 2018 than Negreanu and he would go for $10k. If neither wins one, or if they tie then the bet is off.
Jon D answered showing his support for Negreanu. He is not a fan of Hellmuth and believes Hellmuth has already earned what he could and is no longer a top player.
Hellmuth, however, already has fourteen WSOP bracelets to Negreanu's six, over their career periods. However, Hellmuth has yet to make a win during any game this season. He was late for the SHRB and went to the rail on the first day of the game. Negreanu at least made it to the final table before being eliminated by Justin Bonomo.
Each year challenges are issued to the two players to see if they have what it takes to earn more WSOP bracelets against each other. Both are also going strong, but Hellmuth seems to be taking a lackadaisical approach this time around.
Hellmuth is a busy man trying to win various poker tournaments like the $1,500 horse, which he started playing today.
Polk and Negreanu History
Negreanu tends to make news, like his dissatisfaction with Polk, although Doug Polk was the one inciting the incident last year. On the big stage, and after 27 minutes into a game Polk removed his shirt and had another underneath that said, "more rake is better." Negreanu has more of a reserved table-side manner, which may be the reason Polk tends to be chattier and perhaps a bit annoying.