Neymar Places Sixth In Poker Tournament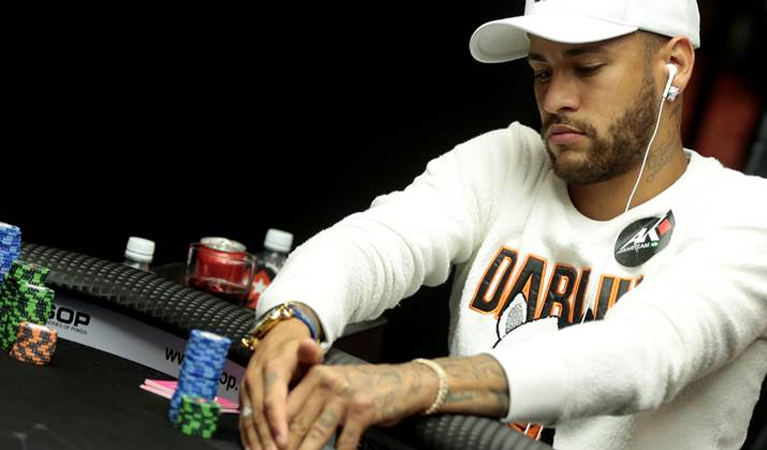 Neymar is a name that is synonymous with football, so you would be surprised to find out that he is quite the poker player. In fact, Neymar has placed sixth in the high roller event of the Brazilian Series of Poker.
288 Runners
Neymar entered the tournament with a few friends, but outlasted them all when he made the final table of the BSOP High Roller event a couple of days ago. As the final table got started yesterday he was sixth in chips and his competitors were surprised that he was able to beat out nearly 300 other players to make it this far.
An interesting situation arose when Neymar had to take a break for a day to attend his friend's wedding as best man. Normally, when a player needs to leave, their forfeit their player in the tournament – however, in the spirit of good sportsmanship, the other players at the high roller table agreed that they would pause the action until Neymar was back.
Unfortunately, when he did return to the table, it wasn't long before he was eliminated. Neymar was playing  for just four hours before making two big bets on two unsuccessful hands. Still, he is pleased with his experience, saying: "I'm very happy to be playing this tournament for the first time and for reaching the final with some great players".
Not Quite $200m But Still a Great Prize
Neymar won just over $21 000 for placing sixth in the tournament. Of course, this pales in comparison to the $259 million that Paris St-Germain paid for him in 2017. In fact, his prize is worth less than a one thousandth of what he earned for signing with the French footballer team.
Still, this is a great win to have under his belt. Since joining Team PokerStars in 2015, Neymar hasn't won many prestigious tournaments – so, this could be his first real taste of life as a professional poker player.
Neymar is just one of many athletes that has taken an interest in poker, despite being at the top of the game. Both Cristiano Ronaldo and Rafael Nadal were members of Team PokerStars, after showing a keen interest in the game. Neither players have any big wins to their name, so Neymar is quickly becoming one of the best poker-athletes out there.
Now that Neymar has earned himself a taste of success in the poker world, it will be interesting to see him play in other tournaments. Here's to hoping that he'll register for next year's World Series of Poker in Las Vegas.