Poker Tournament Strategy: Basics for Improving Your Tourney Success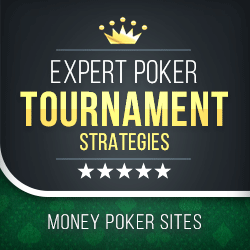 If you want to experience the real taste of victory in poker, you should consider taking part in tournaments. They are different from cash games in many ways and allow you to earn much more money. However, you need an adequate poker tournament strategy if you want to achieve the best possible results.
Therefore, we've decided to write this online poker tournament strategy guide and help you understand some of the basic concepts related to this type of competition.
Poker Tournaments Strategy: How to Play
There are two fundamental questions that every tournament newcomer asks — how to play and how to win poker tournaments? Let's explore the answers.
How to Play Tournament Poker
To play in poker tournaments, you need to join an online poker platform or visit live poker room tournaments. You'll have to pay a buy-in price that will go to the final prize pool.
Every player will receive the same number of chips, and the goal will be to remain the last person standing. In other words, try not to lose your entire stack and aim to make it as big as possible.
That's it, essentially. However, there are many additional rules you need to follow if you really want to become the best. This leads us to the very next question — how to win in poker tournaments?
How to Win Poker Tournaments
Whenever a player loses all chips, they are out of the game, and the rest of the players continue to play as long as they have chips. When there are only two players left, they will engage in a heads-up duel and play as long as one of them takes all the chips from the other.
Poker Tournament Rules
The first rule of tournament poker is that all players get the same number of chips. However, to make them more exciting, the blind levels go up after some time. For example, if blind levels are set to 15 minutes and the starting blinds are 25/50, they will double up to 50/100 on the next level. Blinds are basically antes that you have to pay in a cash game. The only difference is that antes don't change throughout the game.
Every tournament must inform players whether they can re-buy their way back. Re-buys are often allowed during the early levels, meaning you can pay the buy-in price and start all over if you drop out early. Some tournaments limit the number of buy-ins, and some don't allow them at all. They are usually called freezeout tournaments.
Moreover, the betting format of the tournament must be decided before it starts. There are three popular betting formats:
Finally, there are all kinds of poker variations, and tournament officials must state which one will be played. The two most popular ones are Omaha and Texas Hold'em.
Nowadays, many additional tournament formats exist, such as knockout, progressive knockout, bounty, heads-up, shootouts, and more. However, we suggest you start with the most popular and widespread one — the multi-table tournament format where players sit at different tables and progress to play with the best ones from other tables.

Payout Structure for Tournaments
Every tournament features a guaranteed prize that will be distributed to the most successful players. However, if more players than expected apply, the guaranteed prize is increased.
The final prize pool is determined after the registration period is closed. Players' buy-ins are then added to the pool, and prizes for the best players are selected so that the last one standing receives the biggest share of the pool.
Tournament officials also determine the number of players that will receive the prize. The last player who hits the rail without a prize "bursts the bubble," meaning that all the remaining players will earn some money for their effort.

Practical Tournament Tips
There are all kinds of tips and tricks that you need to learn to become a professional tournament poker player. In this section, we'll name a few that should help you avoid all the pitfalls that newbies usually stumble upon when switching from cash games to tournaments.
Learn which hands you should play depending on your table position.
Always pay attention to your stack size, as well as the stack sizes of your opponents.
Don't overplay in the early stages — save the best for later.
Unlike tournaments, cash games allow choosing your opponents, so make sure to adapt your style of play to your opponents every once in a while.
Learn how to crush your opponents in the heads-up play.

The Best Tournament in Vegas
Las Vegas is home to all kinds of poker competitions, so it's challenging to list the best poker tournaments in Vegas. Therefore, the choice of tournaments in this section represents the personal opinion of the author.
We're going to focus on tournaments that regularly take place — at least once a week. Read on!
Wynn/Encore Saturday Tournaments
Wynn/Encore hosts tournaments that begin every Saturday at noon. They come with $230 buy-in and $30,000 in guaranteed prizes. Every player gets 15,000 starting chips, and the blind levels start at 100/100. Levels last for 40 minutes, and re-buys are allowed during the first six levels.
Venetian Saturday Tournaments
These tournaments take place every Saturday at 12:10 PM. Players have to pay $340 to take part in them and receive 24,000 chips each. Re-buys are allowed for the first six levels, and each level lasts for 40 minutes. The guaranteed prize is $25,000.
The Orleans Friday Tournaments
Every Friday at 7:05 PM, players can pay $130 to participate in a tournament hosted by The Orleans. The guaranteed prize pool is $15,000, and players receive 15,000 chips at the start. Levels last for 30 minutes, and re-buys are available during the initial six levels.

Popular Tournaments
Some of the most popular tournaments of the world aren't really part of any casino. Instead, they are run by independent organizations. If you played poker at least once in your lifetime, you've probably heard about the most popular of them all — the World Series of Poker.
World Series of Poker Tournament
The World Series of Poker (WSOP) is the World Cup for poker players. It usually takes place during the summer at the Rio All-Suite Hotel and Casino in Las Vegas. Thousands of players from every part of the world go to the Entertainment capital of the world after that to compete in numerous events.
The best ones receive hefty prizes and trophies that come in the form of gold bracelets. The WSOP features hundreds of poker events, and the most popular one is the Main Event that often records thousands of entries.
Live Poker Tournaments
The term "live poker tournament" denotes all tournaments that do not take place online. Instead, live poker tournaments are hosted in casinos and poker rooms worldwide where players meet in-person to play poker. Live tournaments are exciting, but they are often more challenging to attend to than online poker tournaments.
Satellite Poker Tournaments Online
Many poker tournaments are too expensive for certain players, so they are given an option to win their seat at those competitions by taking part in satellite tournaments. They often cost a lot less and are conducted online. For example, satellite tournaments can cost $1 and give a winner an option to participate in a $10,000 buy-in tournament.
EPT Poker Tournaments
EPT stands for the European Poker Tour — a set of tournaments that take place in casinos all over Europe. EPT is perhaps the second most popular competition after the World Series of Poker. The most popular EPT stops are Kings Casino in the Czech Republic and Casino Barcelona in Spain's popular city.

Tournament Chips
Tournament chips are one of the essential tools for playing this type of poker. They are different from cash game chips, as they don't really hold any cash value. Instead, they are only used to place bets.
There are all kinds of tournament poker chips, and you can buy most of them online. However, the ones used for professional tournament games can be rather expensive. You can sort chips by materials used for making them:
Plastic chips
Composite/Clay chips
Ceramic chips
Metal chips

Strategy Articles
FAQ
How do you win poker tournaments?
You can win a poker tournament if you're the last person standing after winning in the heads-up play.
How do poker tournaments work?
Poker tournaments are organized competitions where all players receive the same number of chips after paying the buy-in prize. Their buy-ins are added to the prize pool, and the best players receive money from the pool, with the tournament winner getting the biggest slice of the cake.
How do I enter the World Poker Tournament?
The same way you would enter any other tournament. You would either have to pay for your seat or take part in available satellite tournaments and earn your seat that way.
What is a poker tournament?
A poker tournament is an organized competition where players can play against a large field of other players. The most successful ones get to win valuable prizes.
How long do poker tournaments last?
Poker tournaments can last from a couple of minutes (turbo tournaments) to days or even weeks. It all depends on the number of players, blind levels, and the tournament's overall organization.