Top 10 Best Poker Movies Every Poker Player Must Watch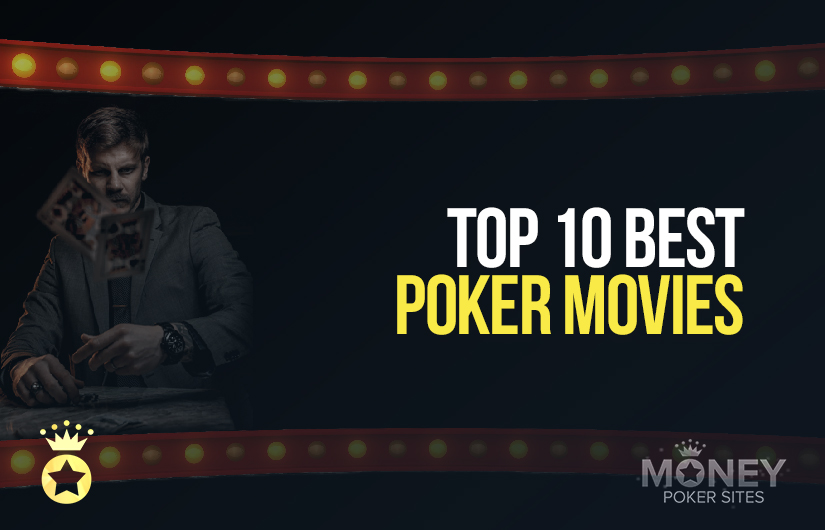 Poker is an incredibly fun, addictive game where a player can use skill and luck to win money. Over the years, this art form has inspired movie directors and actors to create cinematic masterpieces. There have been many movies about blackjack and movies about poker that have captivated the audience's attention. And what's there not to like?
Poker doesn't only work as an incredibly complex, fun game – it's also a parallel to life, as Kenny Roger's "The Gambler" would attest. With this in mind, below you'll find our top 10 list of the best poker movies of all time. But besides the best poker movies list that you can find below – you can also read our poker site reviews here on MoneyPokerSites.com and you'll be well on a path to the best online poker experience a gambler can have.
Top 10 Best Poker Movies
Lucky You (2007)
We start our list off with a somewhat controversial entry. While not a bad movie, Lucky You was met with somewhat of some disdain from poker fans. The movie does feature a lot of poker action, so it's perfect if you enjoy watching poker. However, don't expect it to be top-notch poker play. The movie is more about the reconciliation of an estranged father and son. They compete against one another in a poker tournament, which gives them a chance to fix things. If this is not your cup of tea, then you can see the movie for the numerous poker scenes. You'll also get to see some familiar poker faces, such as Berry Greenstein and Sammy Farha, among others.
Lucky you (2007) | Trailer
Maverick is a bit of an oddball as compared to the other best gambling movies on our list. It's an action comedy that's centred on gambling and poker. It's about a character that needs to somehow make $3,000 so that he can enter a high-stakes poker tournament. He meets with another friend, and they try to get the money by gambling. Over the course of the movie, there are some very funny scenes. Maverick is a movie not just about poker, but about gambling in general. It involves heavy elements of an action comedy, too. While not one of the best poker movies, it still deserves a watch-through.
Maverick (1994) | Trailer
High Roller: The Stu Ungar Story (2003)
Stu Ungar is a legendary poker player. Even though new players may not even know him – he's a big part of the growth of poker. During his life, he won 5 WSOP bracelets. Known as "The Kid", he died tragically at the age of 45. High Roller: The Stu Ungar Story tells the story of this person. It starts early in his life when he started playing gin rummy and then graduated to poker. He was wrestling with personal demons which is part of the reason for his early demise. A tragic figure, his influence on the game of poker cannot be understated. This is why you should see High Roller; The Stu Ungar Story.
High Roller: The Stu Ungar Story (2003) | Trailer
All In: The Poker Movie (2009)
This time around, we have a documentary. Don't worry though – the documentary is just as thrilling as a regular poker movie would be. Perhaps even more so, as some of the biggest poker stars in the world make an appearance here. There's Daniel Negreanu, Chris Ferguson, Phil Hellmuth, and many others. By seeing this movie, you'll get to learn a lot about the history of poker. You'll see why poker has become one of the most popular card games of all time. If you're a fan of the game, then you shouldn't miss out on All In: The Poker Movie.
All In: The Poker Movie (2009) | Trailer
Molly's Game is perhaps the most realistic movie about poker. It's, of course, based on a true story about Molly Bloom. Known as the Poker Queen, she organized (illegally) high-stakes poker games. Prominent businessmen and Hollywood executives were also invited. That being said, there's high-class poker action here. The writers of this movie seem to have done everything right. It's a movie about Molly Bloom's growth as the Poker Queen and her eventual demise. But the movie, at its core, is about poker.
Molly's Game (2017) | Trailer
This is a movie about the dreams of two friends, Bill and Charlie. They decide to turn their dreams come true and get rich by gambling. Their plan goes through as you would expect. It's one of the best card-counting movies about gambling as it gives you a hint of what gambling can turn you into. California Split is perfectly acted and directed. You may even feel that you're watching a documentary while you're watching it – showing that this movie is based on truth.
California Split (1974) | Trailer
Deal is more of a casual-watching poker movie. If you're a fan of poker, then you may want to see this movie. It's about the dynamic between two characters – the poker teacher and the poker student. The teacher teaches the student about poker strategy and tricks. The student promises to give the teacher half of his winnings. This movie was geared towards the hardcore fans of the game. However, it failed to deliver in many ways. This is why Deal is a good movie to watch if you can keep your expectations in check.
Deal (2008)  | Trailer
This is the only pure poker comedy on our list. The unique thing about it is that it's improv comedy. The actors were given a basic background story, but they had to create the plot on their own as they played. In the movie, a few talented actors act as poker players and play a $10,000,000 poker tournament. The movie is not geared towards hardcore fans, so only watch it if you want to have some fun.
The Grand (2007) | Trailer
The Cincinnati Kid (1965)
This is one of the oldest movies about poker. It's set in 1930s New Orleans, where a young kid tries to prove that he's the best poker player in the world. Since it's one of the oldest movies about the game, don't expect to see Texas Hold'em being played. The poker variant of choice here is Five Card Stud. The story, directing, acting, and editing are all excellent here. Therefore, it's considered to be a great movie about counting cards – and one of the best poker movies of all time.
The Cincinnati Kid (1965) | Trailer
Rounders (1998) / Matt Damon Movie
Even if you aren't a fan of poker, then chances are that you've heard about the Rounders movie. This is a Matt Damon poker movie, where the actor alongside Edward Norton and John Malkovich all play poker. It's considered by many to be the best poker movie of all time. One of the hallmarks of this movie is that it's one of the first to tackle the Texas Hold'em variant. Damon's character is an up-and-comer, dreaming to become a pro poker player. His friend, played by Edward Norton, is a wild card, a bad boy that tries to get by with cheating. The movie culminates in the last scene when the Damon character plays against the mob boss played by Malkovich. It's a thrilling movie that all fans of poker should see at least once.
Rounders (1998) | Trailer
Best Poker Movies
The entries above are, without a doubt, some of the best poker movies of all time. You'll enjoy watching many of them regardless of whether you're a fan of poker or not. This ties in with the notion that poker is a way of life for many. So, be sure to pick any movie from the list and watch it. Chances are that you'll enjoy it greatly.