Every James Bond Casino Ranked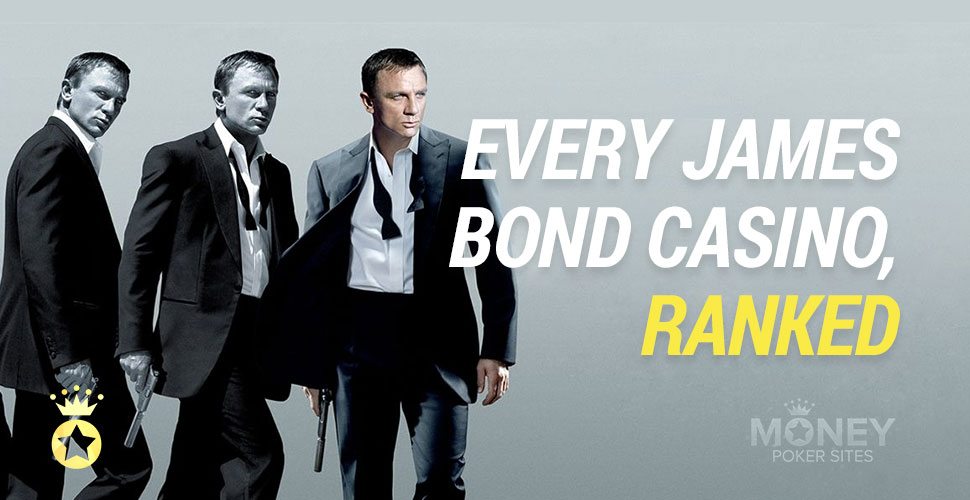 James Bond must have it all. He always manages to slip away from danger, find a confident informer and when the occasion demands it – blow up something. Yet, Agent 007's talents don't end there, because when the opportunity arises, the Brit is down for a tongue-biting game of baccarat. Good news is he seems to be a dab hand at it – and all casino games for that matter.
Today we will go through some of the best casino moments in the franchise. Reliving them has been a lot of fun and they are definitely scenes from the franchise that will bring you immense delight – time and over again. Watch out, though, because there are a few spoilers!
Casino Royal: Why the Long Face, Le Chiffre?
You know, for a man who calls himself Le Chiffre, his poker face isn't quite spot on. Daniel Craig's 007 heads out to Casino Royale in Montenegro to meet the villain who the British secret services suspect of funding a large terrorist organization.
Well, we say suspect, but they god damn know it's true.
Do they come in with brute force? No, they deploy 007 who is happy to face off with the villain in a game of poker. Tensions continues to stack up as the cards are dealt again and again, and there is even a poison attempt and a mercenary trying to chop bits off with a sabre.
But the highlight of the poker game is when Mr. Bond baits Le Chiffre to stake $150 million off a single hand, playing his megalomania. And guess what? 007 reveals a straight flush to the mad disbelief of the villain. Priceless.
Published in 1953, Casino Royal had to wait for a while before it became a movie, but it was every bit worth it.
Why the long face, Le Chiffre?
Diamonds are Forever: Destiny, Thy Name Is Plenty
Craps may take a lot of raw intuition and years of practices, and very possibly a mathematical degree. To Sean Connery's James Bond all of this comes quite naturally. In Diamonds are Forever, Agent 007 heads to the Circus Casino where he beats the dealers and fetches $60,000.
At least $5,000 is spent on Plenty O'Toole, an opportunistic casino worker, who falls for Mr. Bond. As cruel destiny would have it, Plenty will eventually drown in a pool, as she gets sucked in the danger surrounding Mr. Bond.
Skyfall: A Trip to the East
Many critics have called Quantum of Solace a bit of a let-down, but whatever you think about this divisive instalment in the James Bond franchise, at least you can agree that Skyfall easily tops the charts as one of the best.
Daniel Craig will again bring Agent 007 to live and this time, he will venture to Macau, one of the hottest gaming hubs in the world. While tracking an unknown subject, Mr. Bond decides to try his luck at the casino, turning profit as he casually surveys his surroundings for the right moment.
Eventually, he receives a mysterious package which sucks him further along the plot, and that involves a couple of attackers with a misplaced self-confidence.
They end up as snacks for famished comodo dragons in the end – not the best sight, indeed. Yet, the casino scene in Skyfall is definitely one of the best, and we definitely recommend it.
Golden Eye: Raw Sexuality
It's the Cold War and Pierce Brosnan's James Bond naturally seeks the warmth of casinos. Not everything about Golden Eye is about gambling of course, but the casino scene doesn't disappoint either.
Agent 007 meets Xenia Onatopp, a foxy Russian agent who cannot be trusted. And surprisingly, it's she who's stacking some serious cash playing Punto Banco and dismantling the dealers while casually flirting with Mr. Bond.
The two then sit down to an intense game, which is oozing with sexual tension that, to be perfectly honest, we don't think anyone bothered counting cards or following the dealer's hand for this one. No wonder that so many people simply loved Golden Eye.
Thunderball: A Game of Chemin-de-Fer
Surrounded by beauties, James Bond will venture to a yet another casino challenge. You may be a bit sceptical and argue that there is no real skill in games such as chemin-de-fer, but apparently, Agent 007 has another opinion of the matter and no less.
In Thunderball, Mr. Bond faces off Emilio Largo, the villain. The pair pretend they don't each other, but everyone can feel there is a history between the two.
Yet, the secret service man is there to play cards first, apprehend the terrorist second.
Dr No: Punto Banco's Debut
If there is one thing you need to know about Ian Fleming, the creator of Agent 007, that is he loved everything his character does. Women, cards, and cigars, with a glass of medium dry martini.
In Dr No, fans get a chance to see Mr. Bond in his element, playing a game of Punto Banco. He plays against Sylvia Tench whose beauty once again will certainly not have you focused on the game for long.
After a good hand, Mr. Bond compliments Ms. Tench's play, and she responds teasingly by chalking up everything to his luck.
'I admire your luck, Mr. …?,' she ventures.
This being the 1960s, the cameraman pulls a classic move of the time flicking the camera and reeling in a close-up of Sean Connery's face who lights his cigarette with a measured movement and says the words that would immortalize him.
'Bond. James Bond.'
Dr. No is one of the most iconic villains of the franchise, not least because of Ms. Tench.
Octopussy: Always a Step Ahead
Roger Moore's 007 travels to India to face off with the movie's villain, Kamal Khan, who will – as is the wont of James Bond opponents – suffer from terminal over-confidence syndrome. And so there we have it, a casino in Rajasthan, India.
A whole bunch of man in suits are siting around the table, blowing smoke off their cigars and playing… backgammon! Admittedly, Mr. Bond hasn't played much of that, but he seems to be inclined to win the Fabergé egg, and not least of all challenge Khan's ego.
Expectedly, Khan loses to Mr. Bond who delivers defeat in a two-fold manner, first taking the villain down a notch and only then introducing him to his doom.